Search4d:
Here's a "StampCompare" of your two 4d yellows.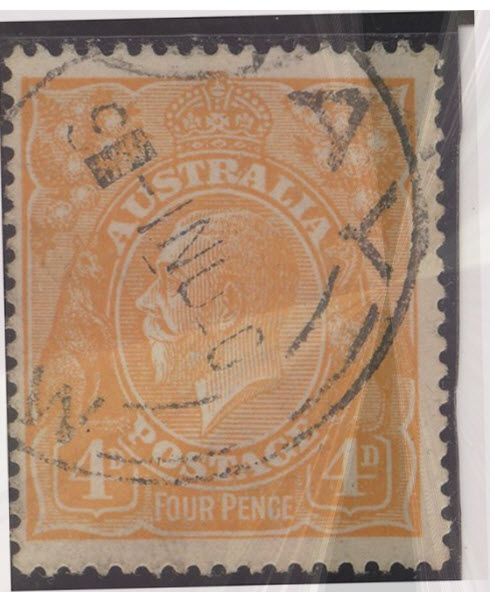 Since the selection of the pixel markings (points of comparison) are not relatively proportionally spaced ("A" & "Y" points I selected for the program to use) when the overlay is done one of the two images will always become distorted - you can get some really weird looking ones. Note that it could only hold one point for comparison while the others were blown away.
I've imported all three of your images into Photobucket. The scaled distances between selected points do prove the first and second images have the same cancel while self-evident, comparison of the first and third, prove the two cancels are different.
As proof, see the mock-up I've appended below.
In Photoshop, I enlarged each image to approximately the same size, added a grid, then rotated each stamp so that the lower right corner of each 'A' was at a gridline intersection then rotated again to have the base of the 'Y' on the same horizontal gridline.
Notwithstanding the poor scan of the 4d violet, one can see that both the 'Y' and end of the right arc on the first 4d Yellow and 4d Violet are found in similar positions on the gridlines proving they are the same cancel. The 2nd 4d yellow with the different cancel has obviously different grid points for the 'Y' and end of the right arc.
The above is neither perfect nor scientific but provides a good case.
I can also post compartive distance measurements between the points shown below, for each stamp, to prove the first two posted have the same cancel while the last one is radically different.
_________________
------------------------------------------
Anyone else accumulating NWPI material for research?