As a bonus, I'm going to give you a preview of the last issue for the year.
Coming Dec 8, it'll be 150th anniversary of the first postage stamp issue in Hong Kong. There is going to be... 6 stamps, 1 MS and 1 prestige booklet (all denominated) and 2 minipanes which are non-denominated (gasp!)
Anyway, at the GPO, they have all 6 stamp sheets shown (while the rest are just photos).
Very interestingly, the control number for this set is GP, so the first 9,999 sheets will be GP0xxxx (which looks like GPO!)
The general concept of the issue is to match each of the first Victorian definitives with a mode of communication method. Thus you have the quill, fountain pen, ballpen, typewriter, keyboard, Qcode and barcode.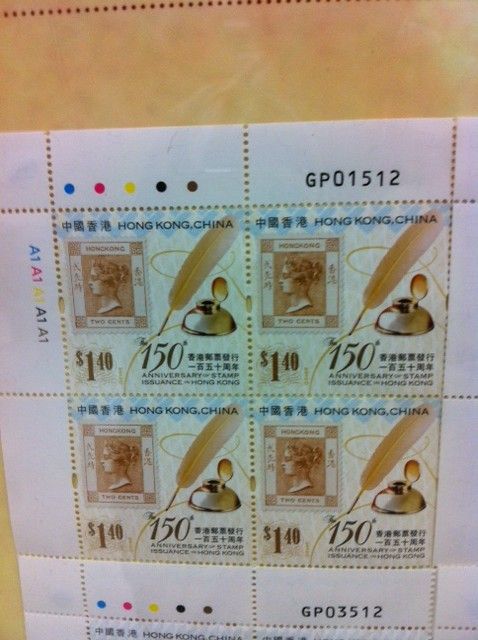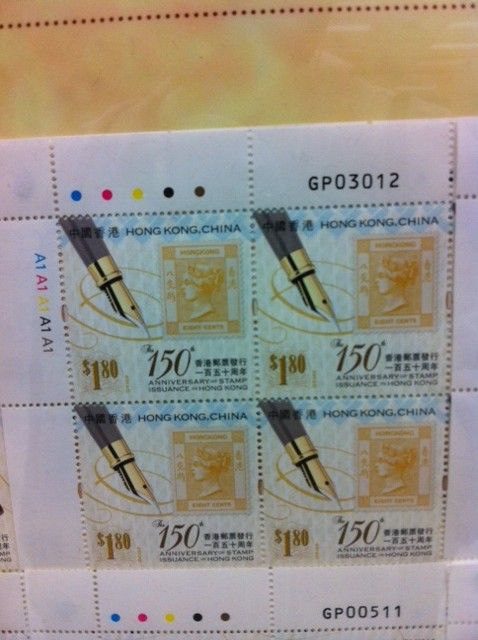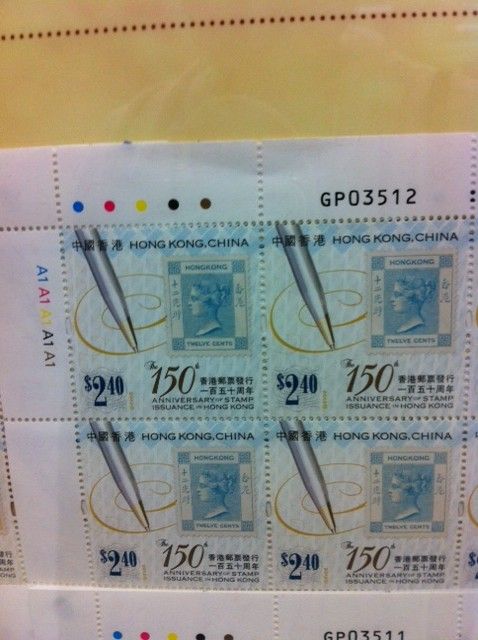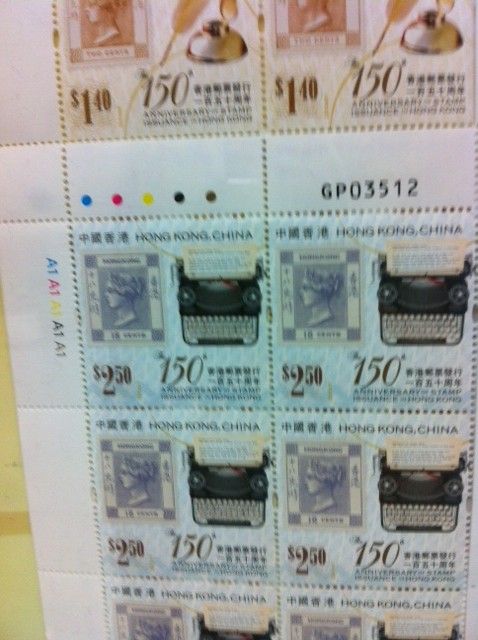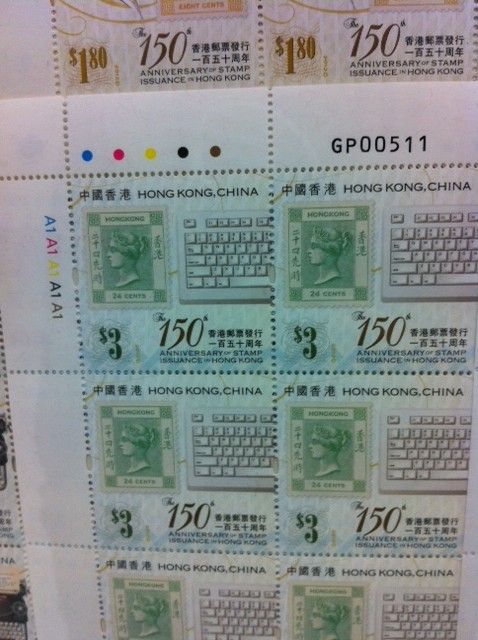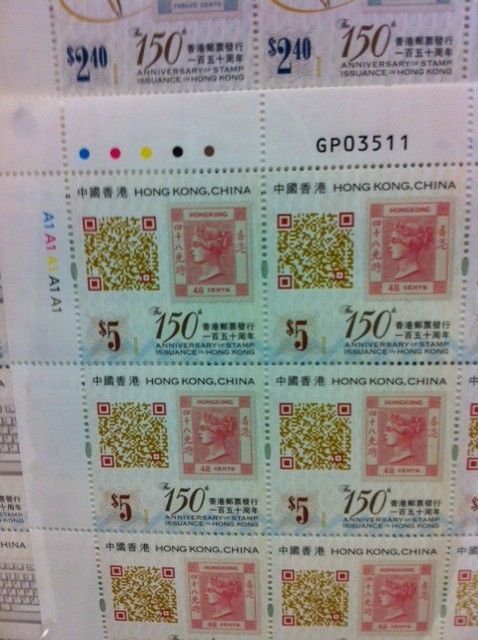 And this is how the prestige booklet looks like: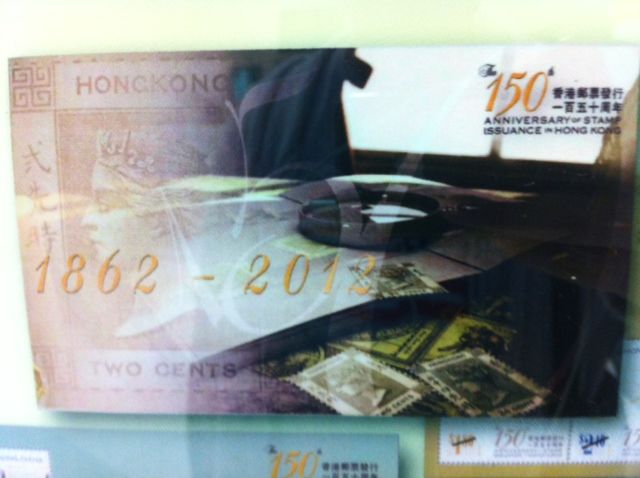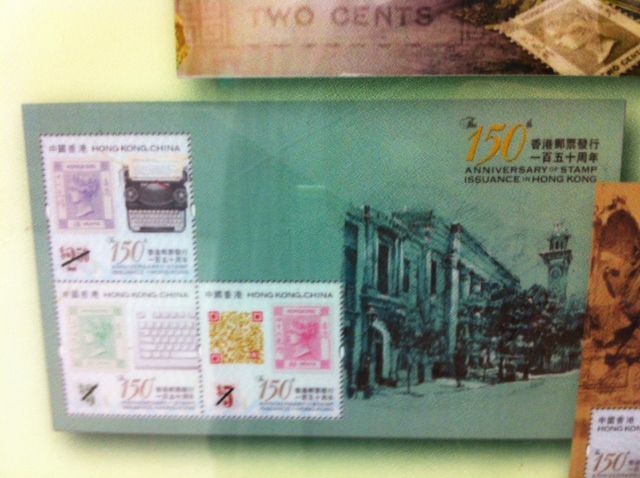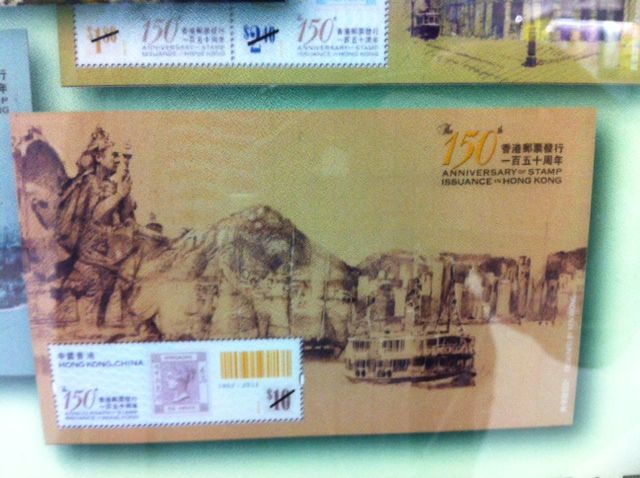 The first 3 stamps were matched with a picture of the first GPO.
The rest of the 3 stamps were matched with a picture of the second GPO.
The single $10 was matched with the current skyline of Hong Kong and Queen Victoria's statue (at Victoria Park) on the left.
I tried to scan the QR code on the $5 and yes, it works.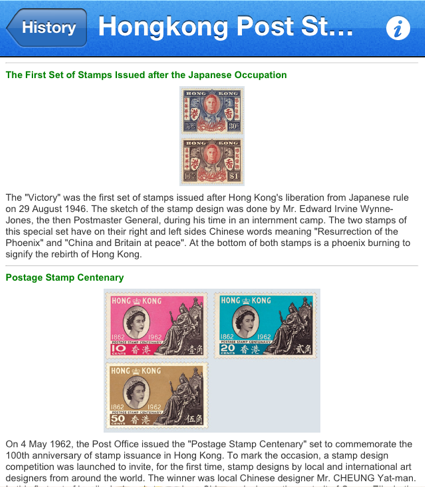 It gives a brief history of Hong Kong stamps...
But hold the press.... did you notice anything wrong with these Victorian definitives???
I give you... 10 seconds...
9...
8...
7...
6...
5...
4... any luck?
3...
2... found it?
1... time's up!
Yes, the color on the 18c stamp (HK$2.50 stamp) DOESN'T MATCH!!!!!
I've combined the Victorian definitives (from the scanned page) with the cropped actual stamps... You might see some color difference due to lighting or some other factor.... but lilac (Victorian def) vs blue ($2.50 stamp)??? Uhm.... what do you think?
I've checked with Yang's catalog as well as Scott's, but I don't see a blue (or shades of blue 18c!) Any thoughts?