You'll be welcome to share the hole on the bank of the Yarra I've been reduced to, John ...
And now to turn to more serious matters,
Faridkot
is one of the bad boys, like Bussahir, that let the Uglies side down.
Faridkot began in 1879 in classic Uglies style, with two values, handstamped from a single die onto sheets of paper with the spaces for the stamps ruled in pencil:
They used whatever paper came to hand: 'native' laid, ordinary laid, and ordinary wove paper, all in rather nice shades of blue, as in the first two types above.
Then things turned down. Faridkot joined a Postal Convention between British India and five other States. The States were provided with British Indian stamps, overprinted with the names of the individual states, and valid for postage anywhere in the British Indian postal system. The payoff was that the States were to close down their own post offices.
The new dispensation began in 1887, but demand from dealers for the old types continued. Faridkot sold out of the old stamps, then released stamps in the third type above; these had been prepared for use earlier, but never actually put into use.
These sold out, and Faridkot then went to town with imitations of the earlier types, handstamped and lithographed, perf and imperf, and in you-name-your-own colour. They also added a new ½ Anna value, to gain a few more sales. If you see Faridkot stamps offered for sale, the chances are they're these imitations.
For a final, only the Uglies, twist to the tale, there are forgeries of these imitations ...
Next, is
Hyderabad
- one of the real heavyweights of the Uglies. The heaviest, in fact. And, for the most part, one of the most respectable.
Hyderabad started in 1869 with the 1 Anna olive-green at top right; plates engraved in London, printed at the Hyderabad Mint (a recurring theme in Hyderabad philately). These were followed a year later by the ½ and 2 Anna stamps shown next; the plates for these were made locally, and I'm afraid it shows.
Hyderabad's one lapse from respectability involves these three values: they were reprinted in 1880, but with perf 12½ not 11½, and in different colours.
Hyderabad
did
try making its own plates again, in 1900, with the ½ Anna blue shown next, but after that, basically gave it all up as a bad show.
In the meantime, in 1871, Bradbury, Wilkinson provided the plates for a long set, from ½ to 12 Annas. These were inscribed 'Post Stamp', with the value shown in
four
languages, Hindi, Telugu (a South Indian language), Urdu and English, around the centre.
There are some interesting plate flaws in this set, with missing dots and numerals, and parts of the design. If your eyesight is sharp enough, you'll see that the Urdu figure 8, resembling an inverted V, is missing from near the bottom of the central circle in the 3 Anna brown, at the end of the top row: compare it with the ½ Anna stamp next to it.
This was followed by another long set, inscribed Postage, and a few other values and surcharges on them, in smaller formats. All these are found with various gauges of perforation, and compound perfs. Some are rare, but a word of warning: the perfs are usually rough and the stamps are small. One needs great patience ...
The large 1 Rupee yellow was issued in 1927. An insipid colour, and unexciting design, even when you can make it out.
In 1931, Hyderabad released a set of pictorials, with plates by De La Rue, and again printed at the Hyderabad Mint. This set has good possibilities: it's still cheap enough mint (£23 in the 2009 Gibbons) and all values except the 12 Anna red are easy to find used. There's a fine range of shades of the three low values for which several different plates were used, some of which show heavy wear. And you can still pick up covers of the low values for a few dollars each on eBay.
Late in its life, Hyderabad released a few more definitives - the last three on the second last row, and some reworkings of older designs. It also produced several commemoratives: the ½ Anna blue Victory stamp turns up in British Commonwealth Victory omnibus collections.
Hyderabad also overprinted most of its definitives (but none of the commemoratives) for official use. There are three examples on the bottom line. (The large, first, type has been forged
and
reprinted.)
And here is a little oddity. At Independence, the Nizam (ruler) of Hyderabad, who was a Muslim ruling over a largely Hindu population, wanted to go it alone as an independent kingdom. Whatever the rights and wrongs, the new Indian government intervened and deposed him. From September 1948 to 1950, the old Hyderabad Post Office continued to function, but as an agency of the Indian Post Office.
This cover from Hyderabad to Bombay (Mumbai) would in earlier times have needed Indian stamps to reach its destination, but in 1950 it no longer did so.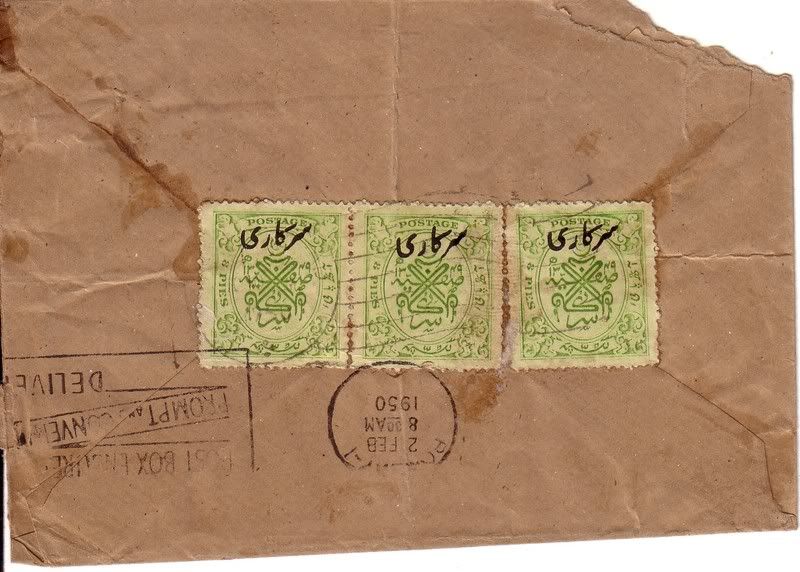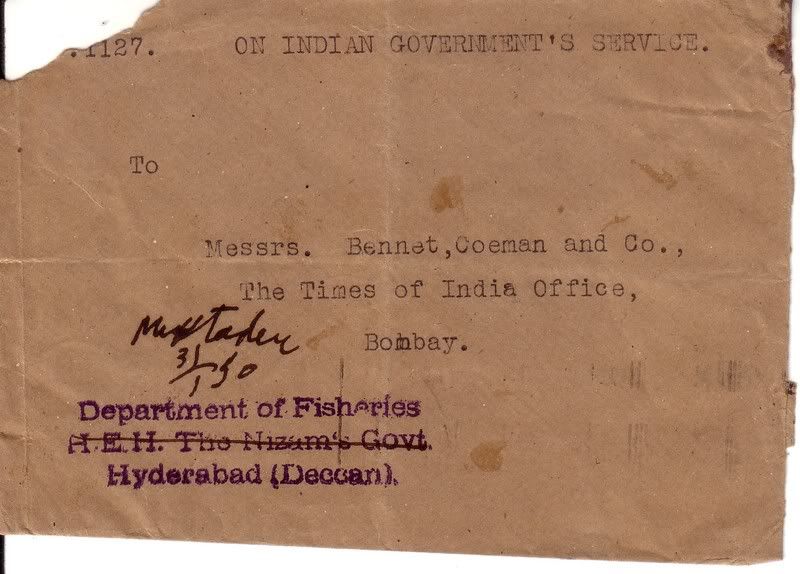 If Cochin is a bit
too
mainstream for you, but some of the others, like Faridkot, are a bit too wacky, then Hyderabad may be just the thing.
Next, another favourite of mine, Idar.