My GB Line Engraved Collection
I have been collecting Great Britain Line Engraved imperforate stamps, like the ones above, for a number of years now and fairly recently a number of philatelic friends have posed the question (or similar) "what are you going to DO with your collection ?", meaning when/how are you going to share some of your items.
I do not currently exhibit or display but I do have a virtual representation of my collection and have decided to publicise its existence so that is available for a wider audience.
This initially started with me wanting to view stamps by plate number and also by cancellation at the same time. As it is not possible to have a physical stamp in two places at once, a website seemed a sensible alternative. It also allows me to take my collection with me anywhere whilst the items remain secure.
I know that it is usual for images to be posted on threads here and that external links are frowned upon but it is not practical to display a significant enough proportion of the collection with the narrative/background that each item deserves. I do intend to append images / details of selected new additions and changes made to the site on this thread. So I beg for some leniency from Glen and the Mods in advance on this one.
The collection is hosted at
http://www.gbimperf.org
The site is (and always will be) a work in progress so some sections are not complete – some may never be as I am bound to get side-tracked along the way !
Boredom Warning
As my better half continually points out, my collection contains only four different stamps:
1840 1d black
1840 2d blue
1841-53 1d red-brown
1841-53 2d blue
although I am not sure that she actually differentiates between the two type of 2d blues
It is just that it contains quite a lot of each of them, with different plate numbers, different cancellations and a variety of usages. So, some viewers may find it a tad boring.
My interests, just in case this isn't already a specialised enough collection, are :
1. Stamps cancelled contrary to postal regulations.
2. The transition from red to black ink in the Maltese cross period.
3. The barred numeral cancellations of England (and Wales), Scotland and Ireland.
4. The transition from Maltese cross cancellations to the barred numerals.
5. Specialised usages, for example: redirected mail, registered mail, international mail.
By way of a few tasters, some of the items added recently are shown below.
Four 1d blacks (from a variety of plates) all cancelled with red Maltese crosses showing differing shades of red ink.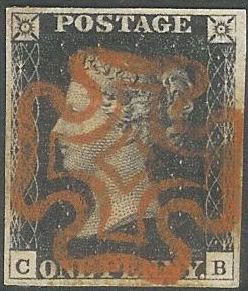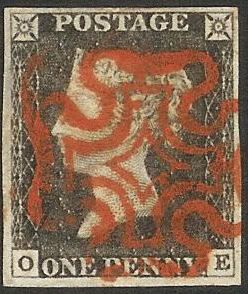 Enjoy, and feel free to comment.
Chris.