As I move around the web I am delighted to see so many websites and blogs from members and other collectors and dealers who have kindly added a stampboards logo and link to us on their own website or blog etc.
To give recognition and thanks to those generous members, I have started this thread so members can acknowledge those sites on here, and
publicly thank them
for their support.
If you as a member have a stamp site or blog, and have not yet added a link to here, there is no time like the present!
http://www.stampboards.com
If you are in a Club or group that has links to other sites on their site and
not
to us, please forward this thread to the webmaster, asking he considers adding us too.
http://www.stampboards.com/viewtopic.php?f=17&t=10980
And we in turn can promote that site at
NO
cost to him when you mention it below
If you add a post here below, giving the link to your website or blog, it will greatly add to the google spidering indexing to
your
website. Why? - as due to our large size we have permanent google and Yahoo spider bots glued to this site 24/7 indexing EVERY word on this site, every day ..... as you can see by looking at "Who Is Online" at any second of any day.
By linking your site to us via a post here below, you add to
your own
google ranking considerably.
google indexes us 24/7 simply as we get a phenomenal amount of traffic and posts from Registered members -
and the 10 fold number over that,
who simply read the threads.
The most recent stats I have are for the first
week
of February 2009
Total hits = 708,572
Total page views = 203,039
(

2013 update

- now over a million hits a week!)
Those are
gigantic
numbers for a week for
ANY
stamp related website of any kind .. even the very largest auctions get
nothing
like that traffic.
I see no reason why we can't have 10,000 members in pretty quick time, making us easily the largest true stamp bulletin board ANYWHERE in the world.
The input and assistance of all members would be greatly appreciated! It is
YOUR
board, and how successful we make it is something you CAN influence!
Artwork in different sizes of the logo is as follows below, for any use you may think to put them to, if you are able to assist us in any way in spreading the word via adding links to other boards.
MANY members add one of these logos to their
ebay listing templates
too .. and thanks for that global support as well.
Thanks in advance - Glen
---------------------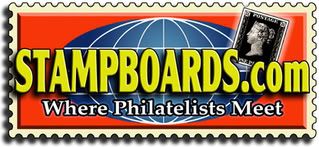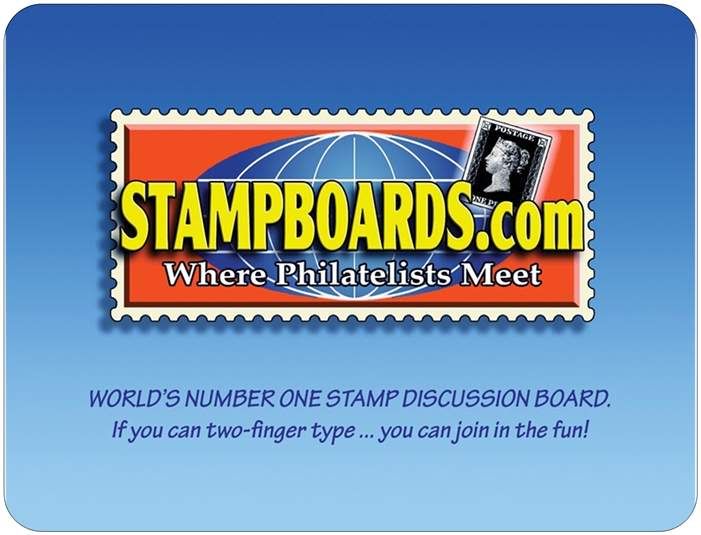 (The are really superb and long wearing mouse mats - used mine for years!)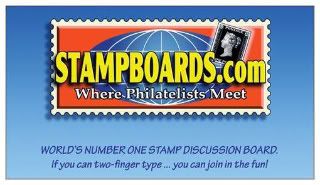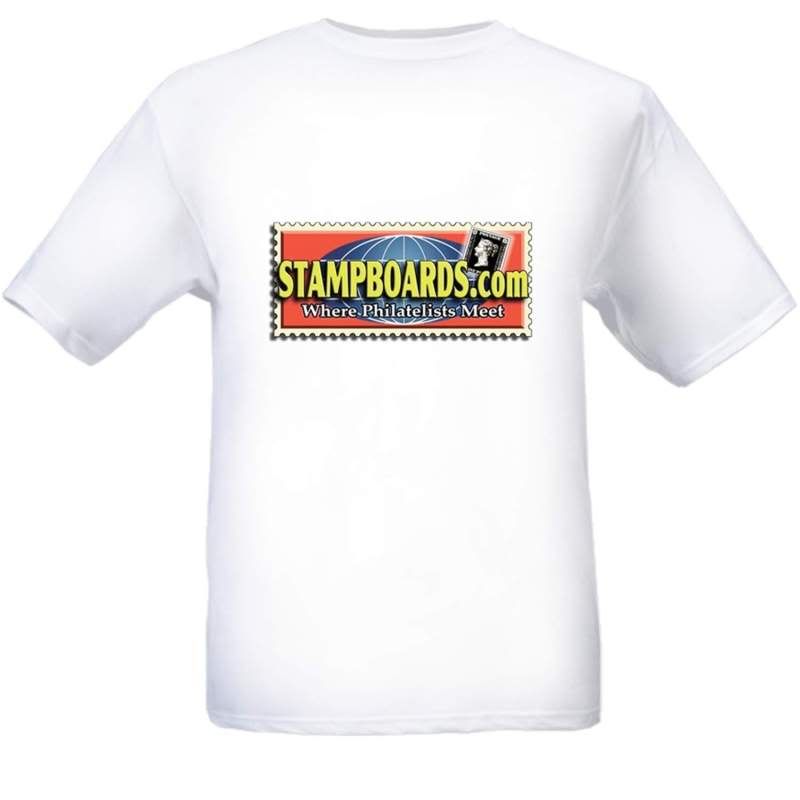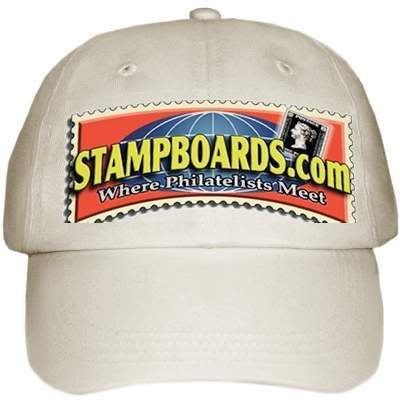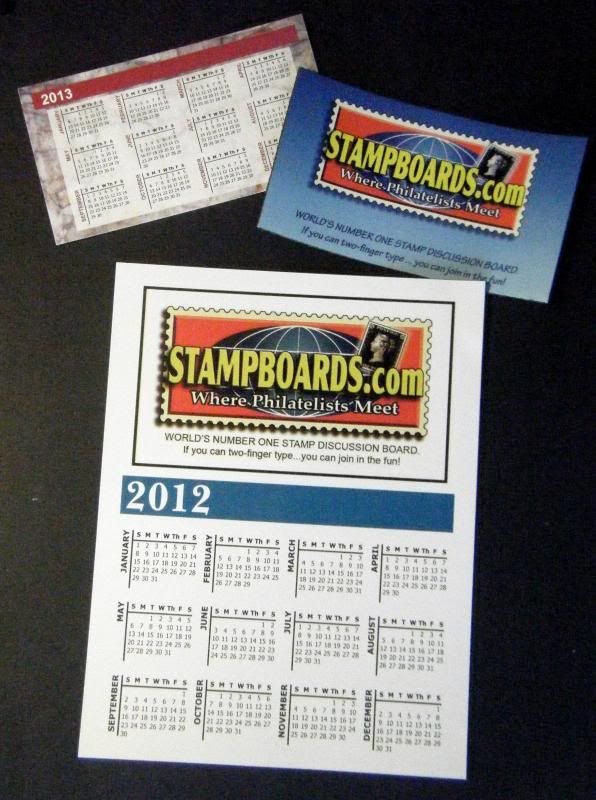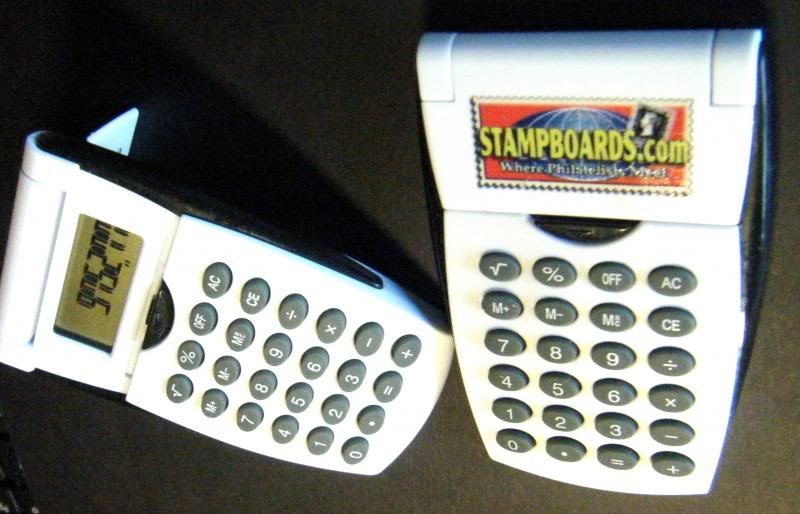 We have had some of the things above made in the USA as souvenirs. Into T Shirts, caps, pens, calculators, mouse mats etc, that some members have asked if they might buy.
We did not make many due to the cost of small runs in full colour,
so first in - first served.
UK member

gavin-h

is shown above with a range of all of them he won in a competition at Christmas.
For anyone interested, cost is as follows (all post is extra) and all payment methods are fine - to glen[at]glenstephens.com Stand out from the crowd at your next stamp show, or club meet!
1. T Shirt: see Gavin's photo - logo is

larger

& better looking than mock-up $A20
2. Classy USA baseball Cap - white or light fawn - $A20
3. Nice pens as shown. PRINTED logo, not a sticker. $A5 each.
4. Adhesive window decals - specify inside

or

outside use: there are 2 types. $A5 ea.
5. Large car door magnets with Stampboards logo on it. (In front of Gavin) $A10
6. Large 20

13

Fridge door calendar magnet $A3 each.
7. Full colour MOUSE MAT with printed stampboards logo on the fabric. SUPERB! $A25
8. Large robust fabric Stampboards tote bag. Full colour logo on

both

sides. $A25
9. Pocket calculator with battery. Hinged lid with colour logo that is free standing. $A15
10. Buy 5 or more of these above, and deduct 15%. Buy all of them and deduct 25%!

All will be shipped
along with a free array
of different size and design, stampboards double sided, color postcards, small fridge magnets and the like, that you can pass on to others!
Like ANYTHING to do with stamps, these knick-knacks
will
all be collectible and sought after in the future. Tiny, tiny, number done, and all of course with our Penny Black as part of the logo.
=====================
And more those who want the tech specs, or to load onto ebay templates etc, here is the HTML code needed -
Code:
<a href="http://stampboards.com" target="_blank"><img src="http://i226.photobucket.com/albums/dd22/ginnyflo/SBtiltR.jpg" alt="stampboards - the new place to discuss STAMP COLLECTING and PHILATELY!" /></a>
Code:
<a href="http://stampboards.com" target="_blank"><img src="http://i226.photobucket.com/albums/dd22/ginnyflo/SBlongNewPennyBIG.jpg" alt="stampboards - the new place to discuss STAMP COLLECTING and PHILATELY!" /></a>

Code:
<a href="http://stampboards.com" target="_blank"><img src="http://i150.photobucket.com/albums/s113/ozstamps/volume%202/1-114.jpg" alt="stampboards - the new place to discuss STAMP COLLECTING and PHILATELY!" /></a>

Code:
<a href="http://stampboards.com" target="_blank"><img src="http://i150.photobucket.com/albums/s113/ozstamps/volume%202/2-36.jpg" alt="stampboards - the new place to discuss STAMP COLLECTING and PHILATELY!" /></a>
Code:
<a href="http://stampboards.com" target="_blank"><img src="http://i150.photobucket.com/albums/s113/ozstamps/volume%202/4-12.jpg" alt="stampboards - the new place to discuss STAMP COLLECTING and PHILATELY!" /></a>
Code:
<a href="http://stampboards.com" target="_blank"><img src="http://i150.photobucket.com/albums/s113/ozstamps/volume%202/3-19.jpg" alt="stampboards - the new place to discuss STAMP COLLECTING and PHILATELY!" /></a>

Code:
<a href="http://stampboards.com" target="_blank"><img src="http://i150.photobucket.com/albums/s113/ozstamps/volume%202/2-35.jpg" alt="stampboards - the new place to discuss STAMP COLLECTING and PHILATELY!" /></a>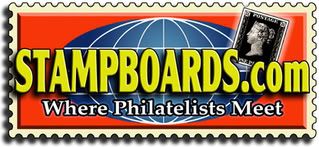 Code:
<a href="http://stampboards.com" target="_blank"><img src="http://i150.photobucket.com/albums/s113/ozstamps/volume%202/1-113.jpg" alt="stampboards - the new place to discuss STAMP COLLECTING and PHILATELY!" /></a>