doug2222usa wrote:
The two Specimens are not included in the 6-stamp "fake" count. If you know
Hong Kong
or you know
Specimens
, please comment if these "look" genuine.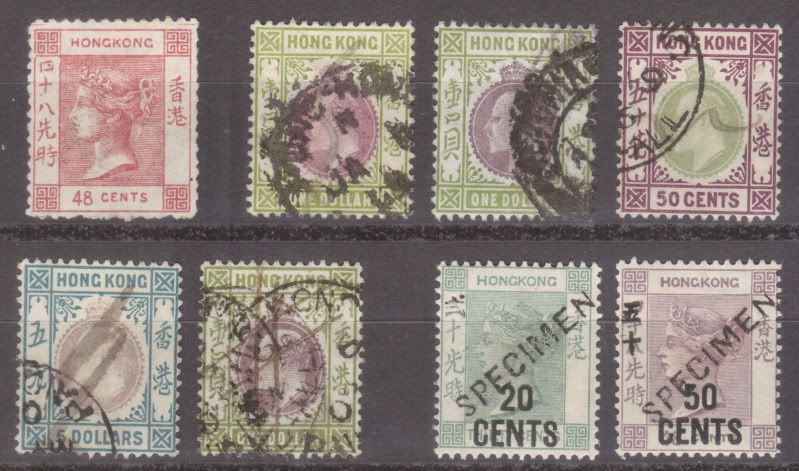 I know this topic is now a little luke warm, but I've done a little digging around for any info on these specimens.
At first I thought the application of specimen handstamps to this particular issue (SG 48 thru' 50) couldn't be right.
After all, specimen copies of the original surcharged issue (SG 45 thru' 47, printed by De La Rue), had already been issued; and these are catalogue listed.
The only difference between the two issues being; the addition of the Chinese characters for 20c, 50c and one Dollar.
However, these additional characters were requested after the printing had been completed, by the Governor of Hong Kong, who was concerned that the Chinese population would be confused by English only surcharges; even though other English only surcharged issues had been used before.
But De La Rue could not produce new surcharge plates in time for their issue date. Consequently, the Chinese 'chops' had to be applied locally; individually by hand. It presumably follows, that 'specimen' copies were produced locally as well; probably 400 sets (as at 1891) for distribution throughout the British UPU colonies. Why this was necessary, is to me a mystery. From what I understand, the UPU required specimens only when there was a change of colour, value, or surcharge!! Anyway:
Enter the diagonally applied
Marcus Samuel Type HK 4
, which had been used locally on a number of previous issues.
What is irritating (but not surprising), is there being no reference to the existence of specimen copies in the Stanley Gibbons catalogue for this issue.
In conclusion, the provenance of these specimen handstamps seems rather good:
A specimen set of SG 48, 49 & 50, were sold from the collection of Ryohei Ishikawa, in the Sotheby Parke Bernet auction, held on Dec 4th 1980.
I've looked at the handstamps very carefully and compared them to your images. Two of the three values in Ishikawa's set have a horizontal line above and spanning the word 'specimen'. The third value does not.
Aside from the above, there is very little difference; only that which may be attributed to wear and tear. The 'inverted S' that has been referred to by others, is consistent with all Samuel HK 4's shown in the same catalogue - and there are quite a number!
Hope this is of some help!