Not quite sure if this is the right place to post this but I came upon this Canadian 13 cent "Brittania" which was over typed.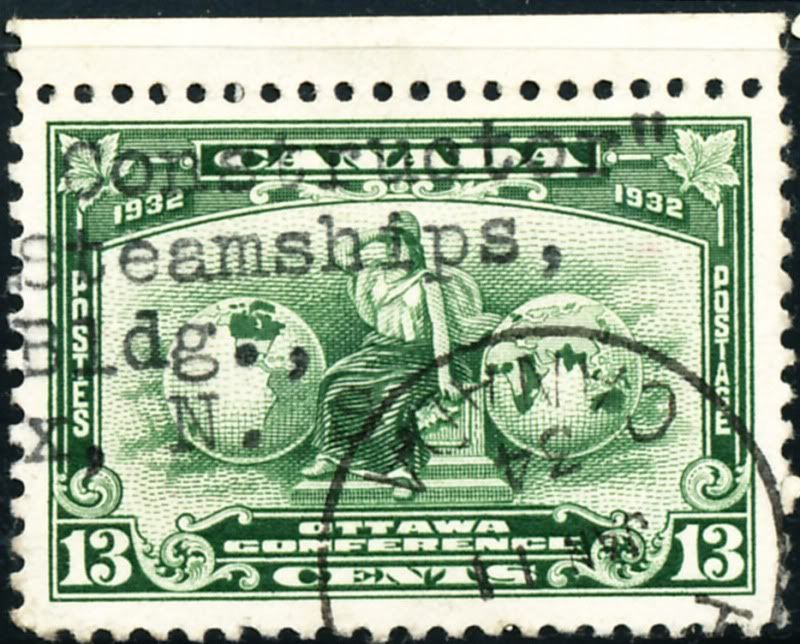 I did some research and believe the stamp is linked to a ship Named "SS Canadian Constructor" a 7,178 ton refrigerated ship.
Built by Halifax Shipyards Ltd, Halifax, Nova Scotia, Canada | 1928 managed by Canadian National Steamships Ltd., 1936 transferred to Canadian National Steamships, in Montreal Australia New Zealand Line (MANZ) service, 1939 sold to Ernels Shipping Co., London and renamed Argos Hill.
Damaged in an air ausault during WWII. Resulting in a hero.
Ernest Burnett, Esq., Chief Engineer, s.s.
" Argos Hill " (Ernels Shipping Company,
Ltd., London).
S.S. "Argos Hill" was bombed and.
damaged by heavy explosions on the port and
starboard sides of the engine room. The
lights failed, steam-pipes and sea-valves
burst, water poured in and the bilge pumps
were put out of action. There were soon
eight feet of water in the engine room. The
Chief Engineer by prompt and determined
action lifted the manhole of one of the bottom
tanks in spite of the considerable depth of
water over it. So they were able to keep the
water down and bring her into Weymouth
Bay under her own power.
To be an Additional Officer of the Civil Division
of the Most Excellent Order of the
British Empire.
On the 7th of August 1945, a week prior to the end of the war, was burnt out and later scrapped.