I arrived home from work today to find that my first ever online purchase of stamps had arrived. Woo-hoo! Among the several lots was a batch of Australian stamps. Here is the thumbnail that appeared in the online auction site listings:

Here is what you saw if you clicked on that listing
http://wensy.com/detail.asp?id=8369101
and then clicked "show full size image":
Somebody else might have noticed what I did because I had to fight from the starting bid of $2.25 right up to $3.81 to win this lot.
You can probably guess which stamp I was interested in. Well, here it is, in freshly-scanned hi-res detail: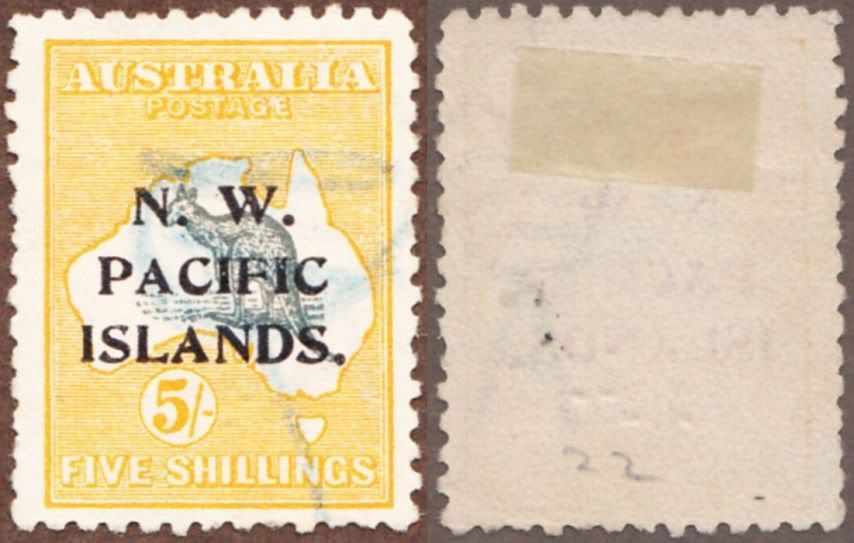 The watermark is the "No.7"watermark in the Seven Seas "Australasian Stamp Catalogue" (19th edition):
I couldn't find my perforation guide (but while hunting for it, I found something better - will post pics soon!) but by comparison with some other stamps of mine for which I know the perfs, I think this one is perf 12.
It seems to have a signature cancellation. The back of the stamp still seems to have gum. I suppose signature cancellations are less valuable than postal cancellations? Can anyone give me an idea what this stamp is worth? Both catalogue value and real (given its condition) value. If only I had Blue Owl's kit, I could reperf that left hand edge! (NOT. Only joking guys!)