nystamps is offering this #1 Brazilian Bulls eye stamp under "Private Auction" (as Glen has said; your first warning) under the following tempting title:
nystamps Brazil Stamp # 1 Bull Eye Used $700 Top Margin Frame Lines Rare VF
The BIN price is $549.00 and there is apparently one offer tendered. The offer ends on October 5th. The item #: 350598520886
http://www.ebay.com/itm/350598520886
There are several questionable characteristics to this stamp, which a seller like nystamps HAS to know, given the number of these they have transacted in the past. They do not offer a view of the back of the stamp and, for full disclosure, when I asked to receive images of the back side of a Bulls eye stamp they had on offer, not only did I NOT get them, but I was summarily placed on their blacklist, so I can't bid on any of their wares. So I will use Stampboards to warn off other less experienced collectors since I can't contact them.
The accepted FDC for a Bulls Eye stamp is August 1, 1843..and a few examples exist. The last date of use of the stamps is sometime in 1854. But the mute cancel of the Brazilian stamps does not begin until the time of issue of the Dom Pedro II series... sometime around 1876...some twenty years
after
the Bulls eyes were out of circulation.
The serious Brazilian collector
KNOWS
this and seeing this offer would also know that, at the very least, the cancellation is fraudulent.
There are

NO

Bulls Eye stamps canceled with a genuine mute cancel. Zero. They don't exist.
Note also that, other than some rarer cancellations, the MINT stamp is more valuable. So why would a fake cancellation be applied to a mint stamp in this case
except
to hide the fact that the stamp itself is fake? I can't think of any other reason. But, as I said, there are some dodgy characteristics in any case on this stamp.
If the forger had done his homework, he could at least have chosen to forge a genuine cancel... with this item, only a novice will be fooled... and NYSTAMPS is no novice... so why are they offering this as genuine?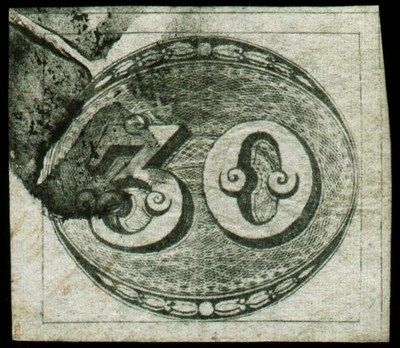 _________________
"Making money is a hobby that will complement any other hobbies you have, beautifully."

- Scott Alexander


I collect Souvenir Sheets postally used on cover, WW used stamps up to 1957 except everything of Brasil and Argentina.