While browsing eBay, stumbled on this lot: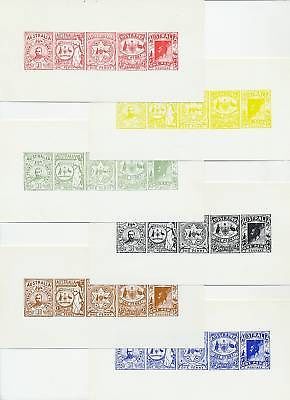 Seller: 8479smacma ("dr stamps")
BIN Price: $750.00
"Title": Stamps Australia essay sheetlets taken from original artwork set of 6 colours.
"Description":
Quote:
Set of 6 different colour sheetlets for the Kangaroo essays by Grant from Wonthaggi for the 1d Kangaroo issue made in 1970's from original blocks on shiny glazed card. See ACSC page 1/393

Popular thematic items and good reference material.
I've had a look at the 2013 ACSC (page 1/19), which refers to Essays E107-E109 (valued at $2,500 each). Beneath these entries, as a Note:
Quote:
One example each of Nos. E107-E109 is recorded. An original printing block exists showing these designs, with two others of which original posts have not been recorded. Reprints have been made from this printing block on two occasions. The first reprints, made in the early 1970s, were low-quality offset reproductions in a number of colours on paper. The second reprints were made in 1998, 100 sets in six colours sequentially numbered were letterpress-printed on thin, glazed white card. The printing block was subsequently donated to the Australia Post archival collection. No E109 is apparently an original print from this printing block, but Nos. E107 and E108, in reduced size, must be from a different printing base.
No value is recorded in ACSC - for either the first or second print.
Presumably I have the first printing - as there are no numbers?