Among my favorite cinderellas are the stamps of
Tarajara
.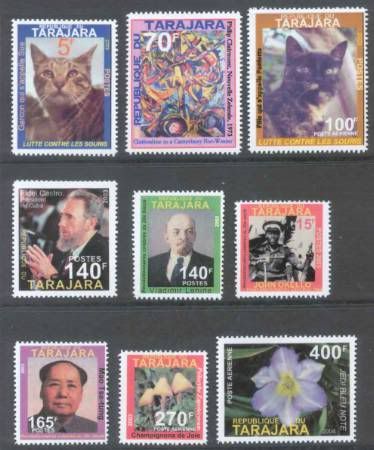 TARAJARA STAMPS:
Cats, Painting, Fidel Castro, Vladimir Lenin, John Okello, Mao Zedong, Mushroom, Flower.
Tarajara is an "imaginary country" dreamed up by the
New Zealand Army
so they could have "war-games" against it.
It is intended to be
(quite obviously)
New Caledonia, but they can't say that, as France is in theory a "friend"
(despite blowing up a Greenpeace ship in Auckland harbour.)
So when this fake land was announced in the media, I decided to print stamps for it.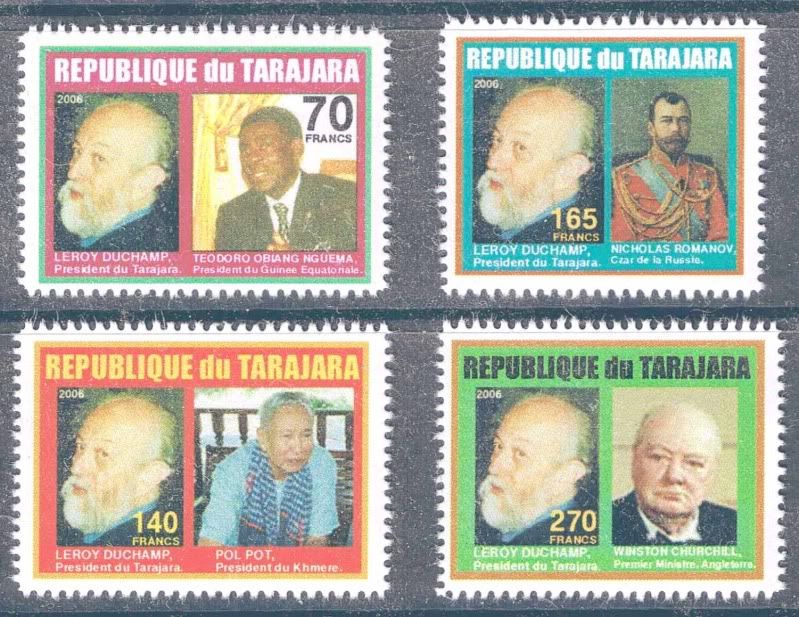 TARAJARA STAMPS: President Nguema of Equatorial Guinea, Tsar Nicholas II of Russia, Chairman Pot of Kampuchea, Winston Churchill of GB.
(Something for everyone there!)
I had great fun doing these stamps, and distributing them to friends, and using on mail
(local carriage only!)
Since Tarajara is at war with both NZ & Australia, it was a good vehicle to show Kiwi atrocities also, and they hit home
(the sadist member of parliament shown on the 70 franc left parliament as a result, so one less sadist making laws has
GOT
to be a good thing, surely!)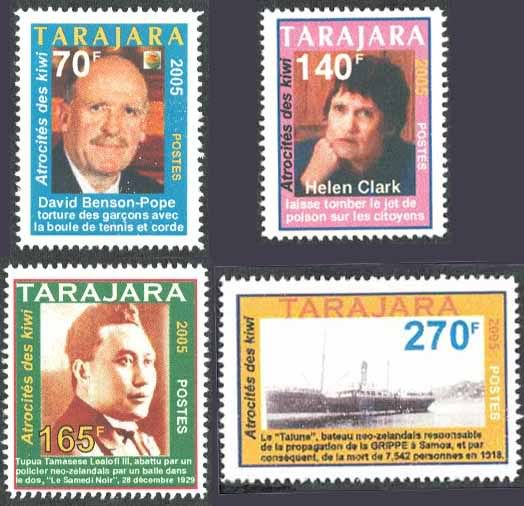 KIWI ATROCITIES: David Benson-Pope (Member of Parliament) tortured schoolboys with tennis-balls and rope when he taught school. Helen Clark dropped poison spray over residential areas from aircraft. Tupua Tamasese of Samoa was shot in the back by NZ police while on a peaceful unarmed protest march. The ship "Talune" with which the Kiwis introduced influenza to Samoa in 1918.
In some lands, they have coups and shoot folks. In NZ, we just make funny stamps, and embarrass the sadists out of their high perch.
In the case of the Helen Clark stamp, she was embarrassed enough to call off the poison spray that was being dropped on residential areas of Auckland and Hamilton!
Not many stamps that could claim that sort of success!
And surely a sticker opposing corruption in the dodgy NZ Post has got to be a good idea?

My car proudly urges end to corruption with this sticker on its back window. Several NZ dealers sell these to their clients. Like one for your car?
Folks who would like some Tarajara stamps are welcome to get in touch. I'm happy to trade.