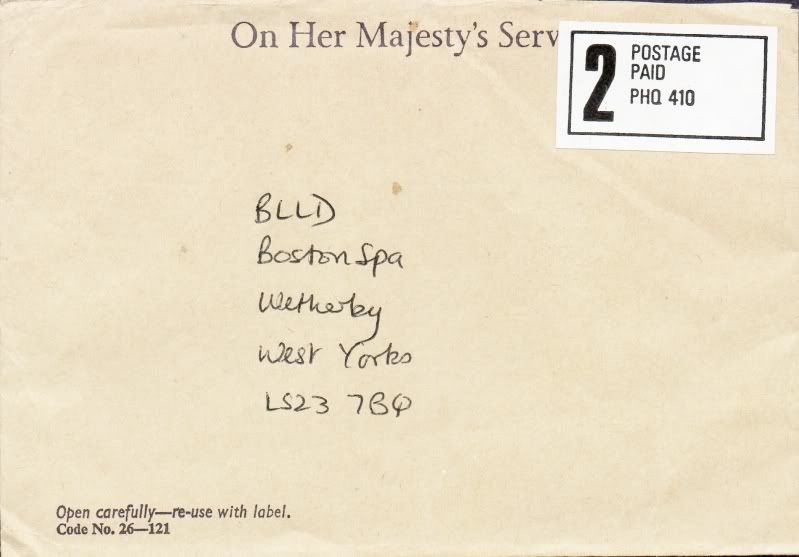 Another one from the loft - three and a half months since I had it re-insulated and cleared absolutely everything out of it.
There were quite a lot of British official envelopes from the period of late 1981 through to mid-1983. These had all been put in a box, but are quite interesting 30 years later.
The Official Paid service was abolished in 1983 according to everything I have found by searching Google etc (or late 1982 according to just one source I also found on Google). The envelopes (and a very few postal cards and labels) therefore cover the end of the period.
The Official Paid 'stamp' is at first used as it comes, with or without an extra "1" at the side for First Class use. The stamps later get obliterated with black squares or crosses and a variety of paid marks - or definitive adhesives in some places - are used to show that postage, now payable to the Post Office, has indeed been paid.
Some branches of officialdom seem to have been less official than others. They are using stamps etc with no "Official Paid" indicium before the changeover - long before from examples I have from other sources. These others seem to be more "fringe" than large administrative offices of Ministries or Departments of State.
Some establishments which according to the National Archives are at the same level of the hierarchy use Official Paid envelopes with an indicium while others use envelopes with just "On Her Majesty's Service" but no indicium.
The Ministry of Defence is a good example of this with Official Paid indicia, adhesive stamps, circular Official Paid marks, Forces Post Office marks and meter franks all being used from different offices.
AND... Postage Paid Impressions (PPI) which is what is on the envelope in the picture. But it is not from the Ministry of Defence, as the MOD number is "PHQ 334".
PPIs in this format were first used in 1968 when First and Second Class postage was introduced, according to
http://www.goring1941.freeserve.co.uk/postmark.html
:
Quote:
In 1968 the two-tier letter post system was introduced and PPIs were quickly revised to incorporate a large '1' or '2' for First and Second Class or 'R' for 2nd Class rebated mail. Soon 'P' for Parcel post was added and a few dual-purpose PPIs with 'R2' (Rebated or standard 2nd) or '2P' (2nd class letter or parcel) also appeared.
Most PPIs that are still around are printed directly onto the envelope or card. The ones that were used on OHMS envelopes were printed onto the envelopes after the changeover in 1983. But envelopes still in stock usually either had them hand stamped directly onto the original envelope either next to the obliterated original Official Paid indicium or in the blank space at the top right. Some are printed on next to an obliterated indicium but this seems to be not very common.
The one illustrated here seems to be unusual - but maybe it's because I've got a stock of only about 200 examples. It is a second class PPI printed onto a label with the obligatory large "2" and "POSTAGE PAID".
The license number is "PHQ 410". Postage sent from one town has a serial from that town, so the Driver and Vehicle Licensing Centre in Swansea (now the Driver and Vehicle Licensing Agency) first used an Official Paid indicium then changed it to a second class PPI like the one shown, but with "SWANSEA / SERIAL No. 7". My latest tax disc arrived in March 2012 with "2 ROYAL MAIL / POSTAGE PAID GB / SWANSEA 7" on it, so some things change very little. Like death and taxes...
Organisations (including governmental ones) which sent stuff from more than one town were, however, given a PHQ (Post HeadQuarters) number.
The envelope above therefore is from an organisation sending stuff from more than one place. It is a governmental organisation - the envelope has an OHMS heading.
It is not one of the government departments that uses its own stationery for everything, such as the Department of Health and Social Security or various bits of the Inland Revenue. The envelope is a "Code No. 26-121" type (serial number at the bottom left) which was used by various bits of the Home Civil Service, mostly the MOD, the Ministry of Defence, which also used its own MOD envelopes and in at least one case envelopes specially printed for a particular office.
But it is not from the MOD as the MOD PPI number is "PHQ 334" for all offices.
It is not the DVLC, which has "SWANSEA / SERIAL No. 7".
It is not the Department of Education and Science Darlington Office, which has "DARLINGTON 22".
It is not the Home Office, which has "PHQ 392".
It is not the Scottish Office, which has "PHQ 330".
It is not the Boundary Commission for England, which has "LONDON WC 96".
It is not the Inland Revenue, which has "PHQ 145".
It is not HM Customs and Excise, which has "PHQ SERIAL No. 412".
It is not HM Stationery Office, which has "PHQ SERIAL NO 340" (Large "O" in "NO", it's not a typo).
It is not the British Library Lending Division, which has "LEEDS SERIAL No. 36".
It is not the Office of the Paymaster General, which has "CRAWLEY Serial 1" (with Serial in mixed case unlike the other ones with "SERIAL ".
So where is it from?
I found some stuff on Stampboards about Australian PPIs and a few mentions of other British PPIs and something about South African PPIs. But nothing which helps here.
I have Googled etc away and can't find ANY list of PPIs identified by number anywhere. Other than one source which listed everything from the Channel Islands, but not mainland Britain and Northern Ireland.
Does anyone please know of a source which might give a clue to this envelope's origin?