Benham SILK First Day Cover set - Great Britain 1985 Insects: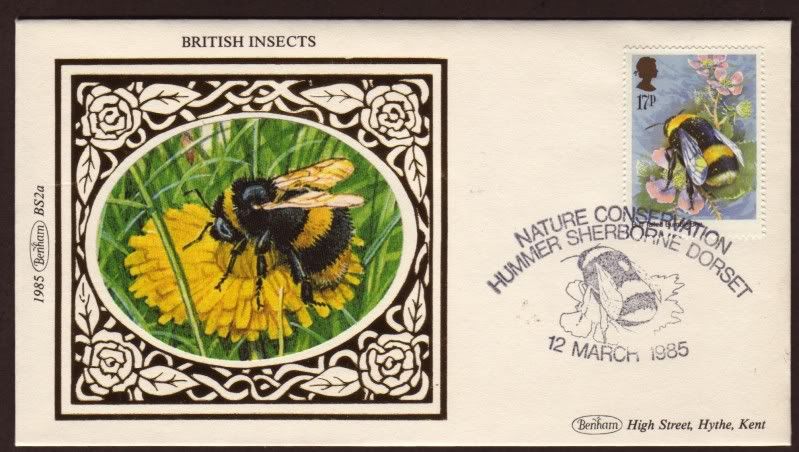 This is a set of the Famous BENHAM Silk First Day Covers. This is the 1985 Great Britain INSECT set (SG#1277-1281, Benham BS2a-e) with special cancels on each cover.

1277 - 17p Bumble Bee First Day Cover -

Nature Conservation

- Hummer Sherborne Dorset 12 March 1985 cancel
1278 - 22p Ladybird First Day Cover -

Pestalozzi Children's Village Trust

- Hastings East Sussex 12 March 1985 cancel
1279 - 29p Bush-Cricket First Day Cover -

Centenary of the Charter of the Royal Entomological Society

- Meadowbank Winsford Cheshire 12 March 1985 cancel
1280 - 31p Stag Beetle First Day Cover - London SW 12 March 1985 cancel
1281 - 34p Emperor Dragonfly First Day Cover -

Selborne Society Centenary

- Alton Hants 12 March 1985 cancel



Considered a "hard to find" complete set - BFDC web catalogue retail value for this set of 5 covers is £75.00
Selling for $40.00 USD
+ postage
First SOLD post to this thread get priority. Email me for details on postage and final total cost (Put "Stampboards Benham Silk Insects" in the subject line). PayPal payments accepted in USD$ ONLY.
Remember, you can always combine this with any other items off our website
http://www.armstrongsstamps.ca
to save on postage!
As per the rules of this forum, these are not available on any auction site or other sales venue
John A
_________________
Armstrong'sStamps**
http://www.armstrongsstamps.ca
Knowledge is Key.....Libraries work!