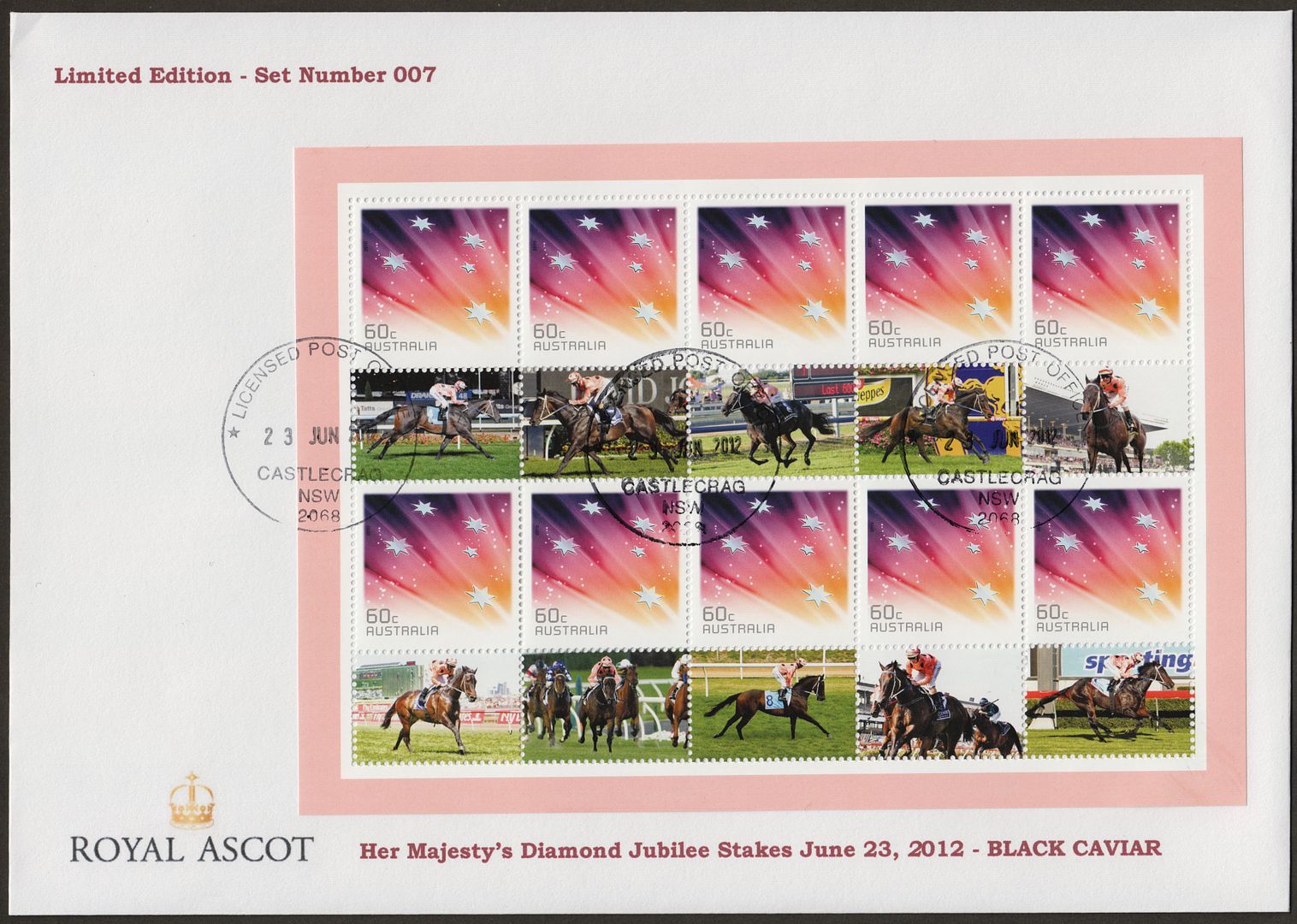 (All orders of course get the same matched numbered PAIR of these - 20 different stamps, 2 covers.)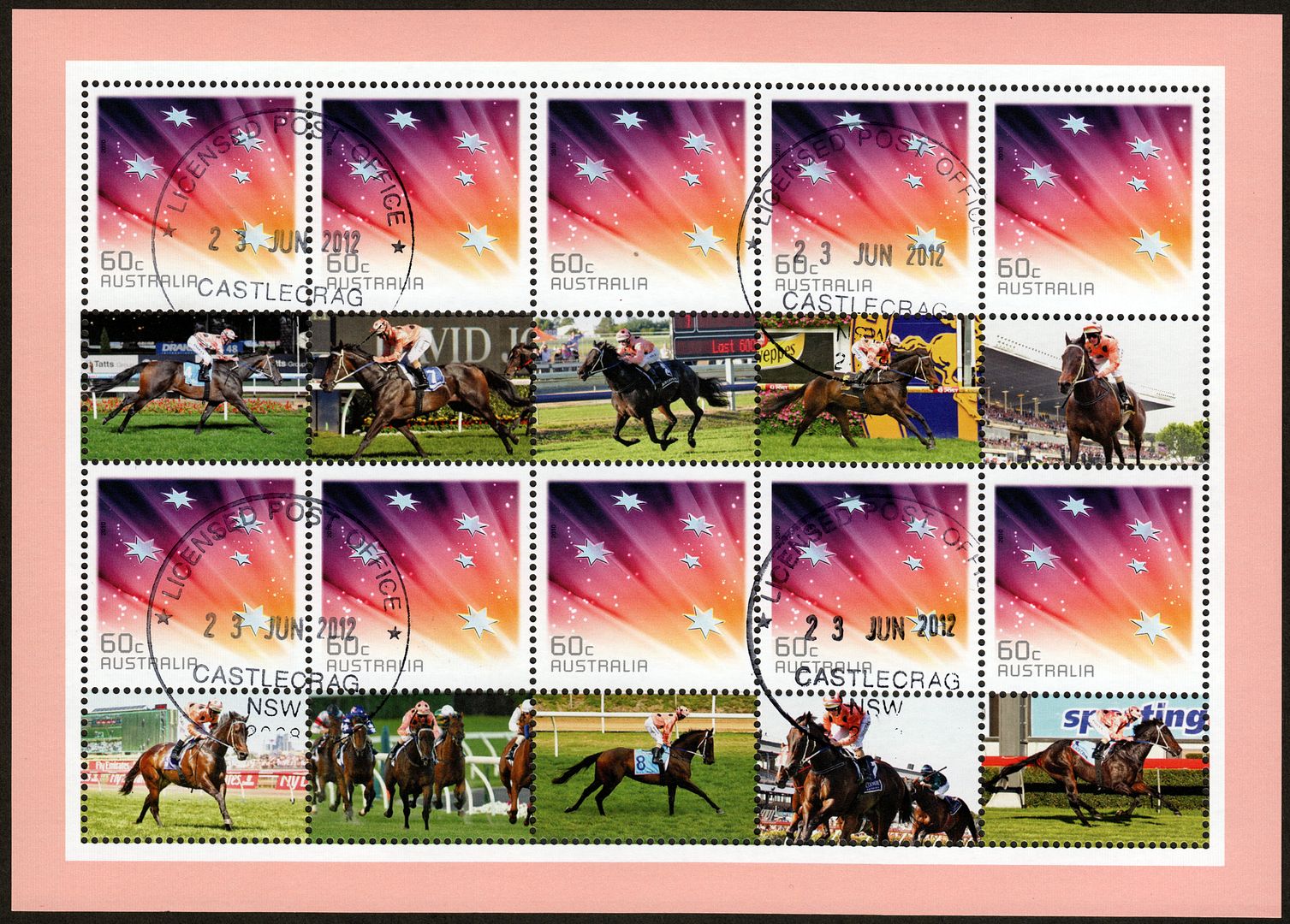 (All orders of course get the PAIR of these sheets - i.e. 20 different stamps.)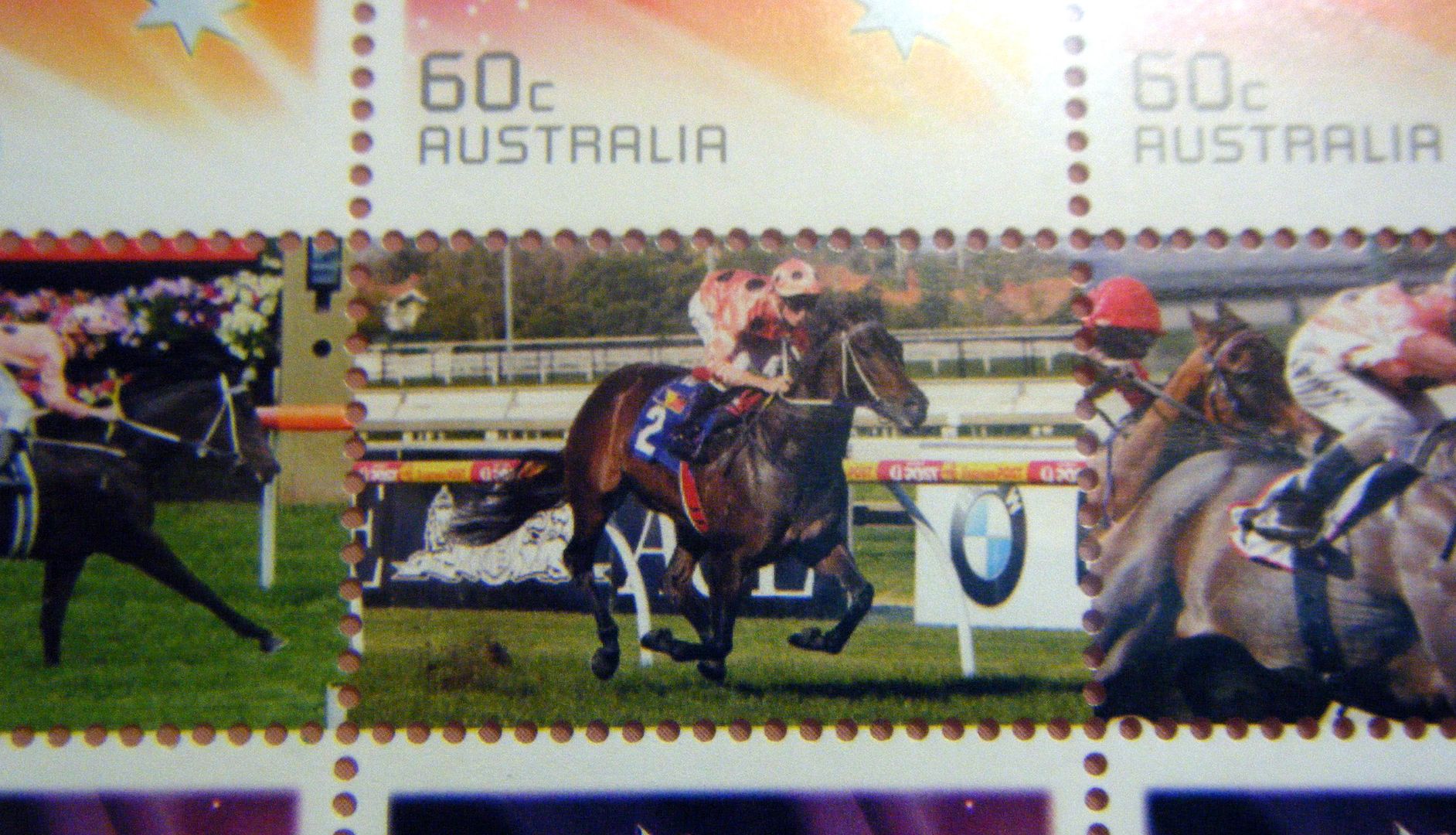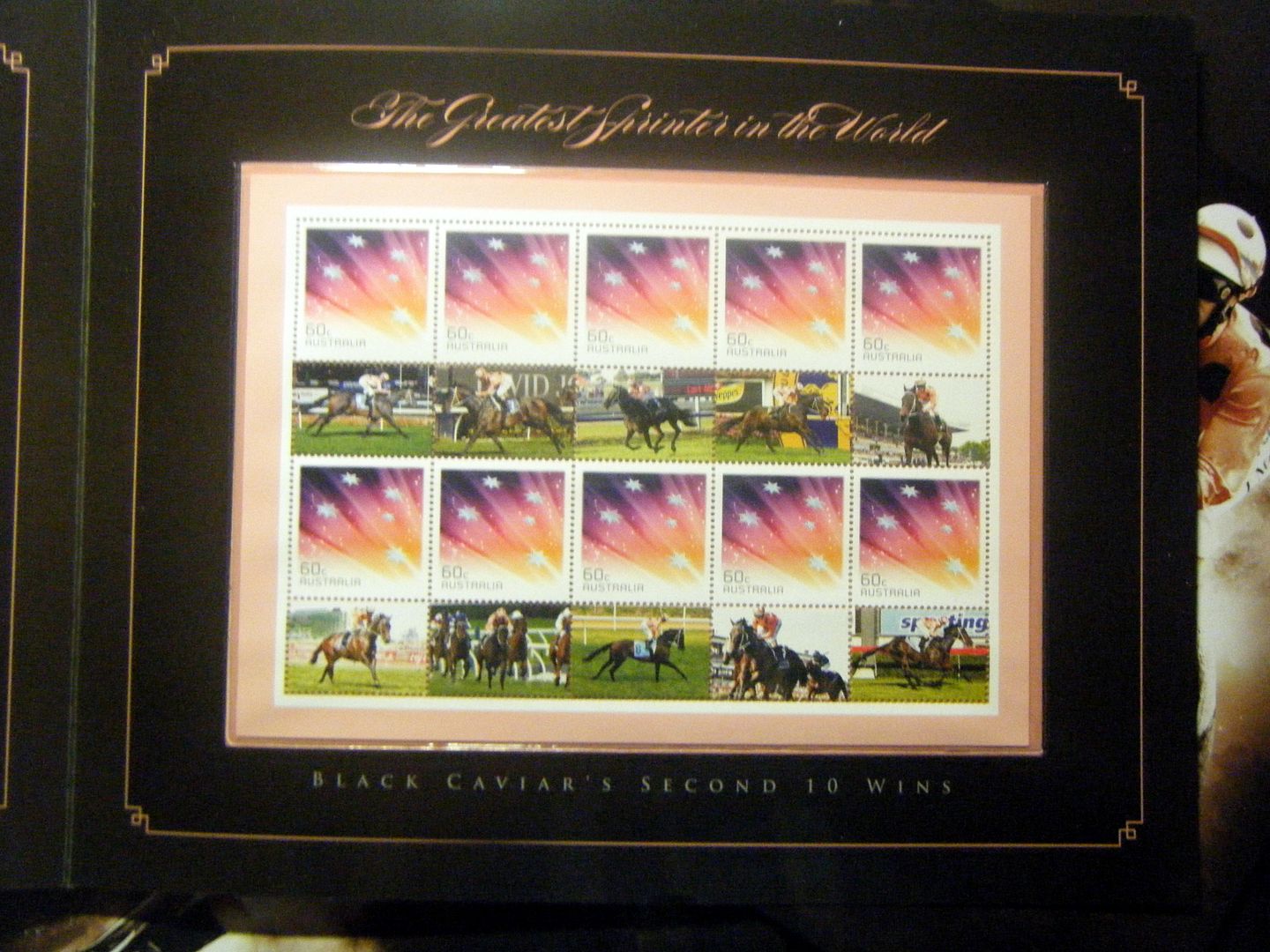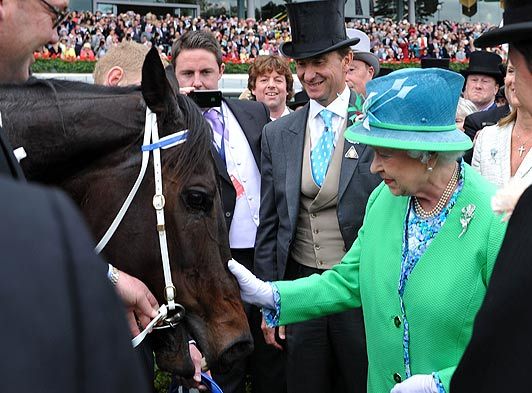 The Queen patting Black Caviar after bravely winning the Queen's Jubilee Stakes.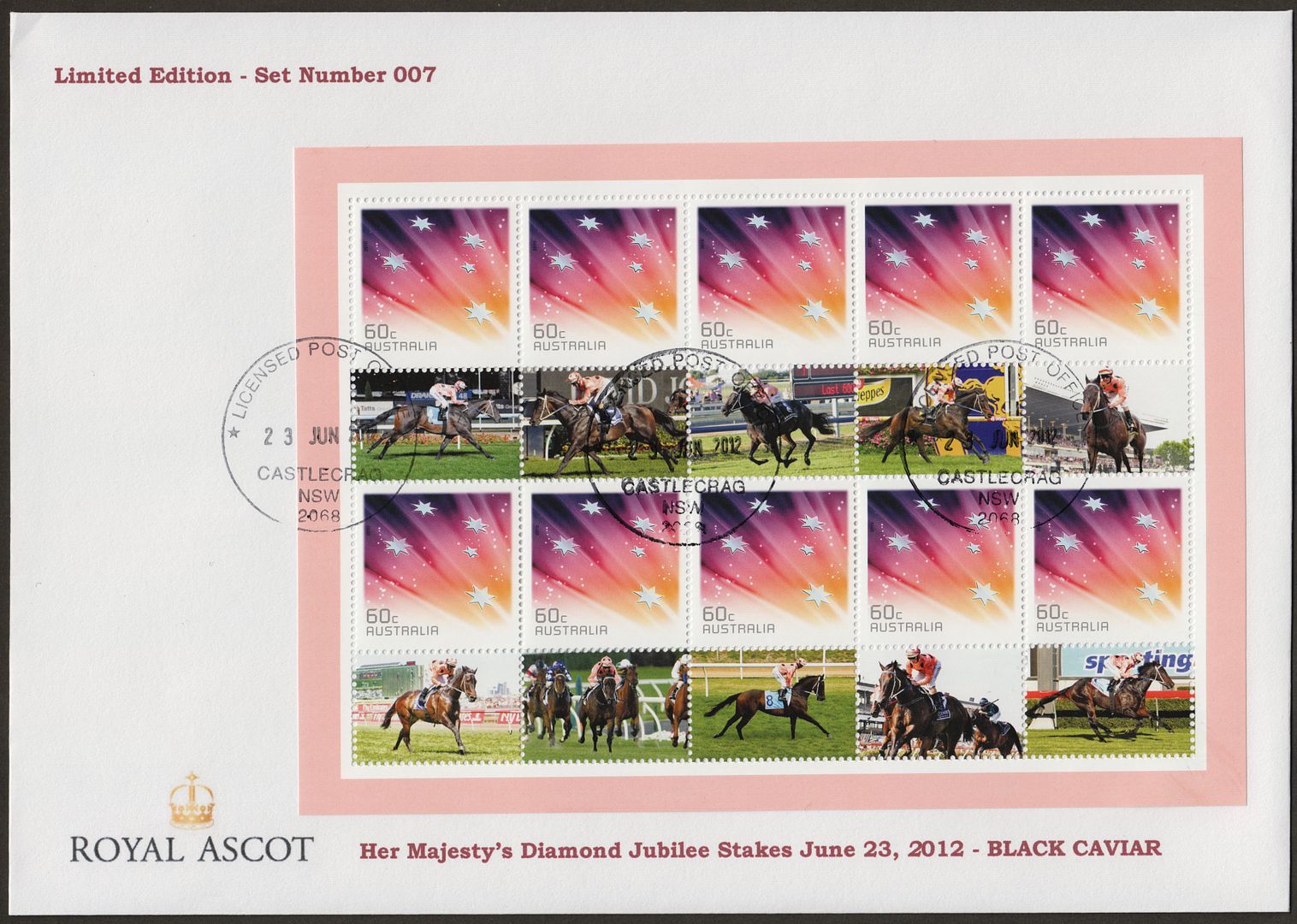 (All orders of course get the same matched numbered PAIR of these - 20 different stamps, 2 covers.)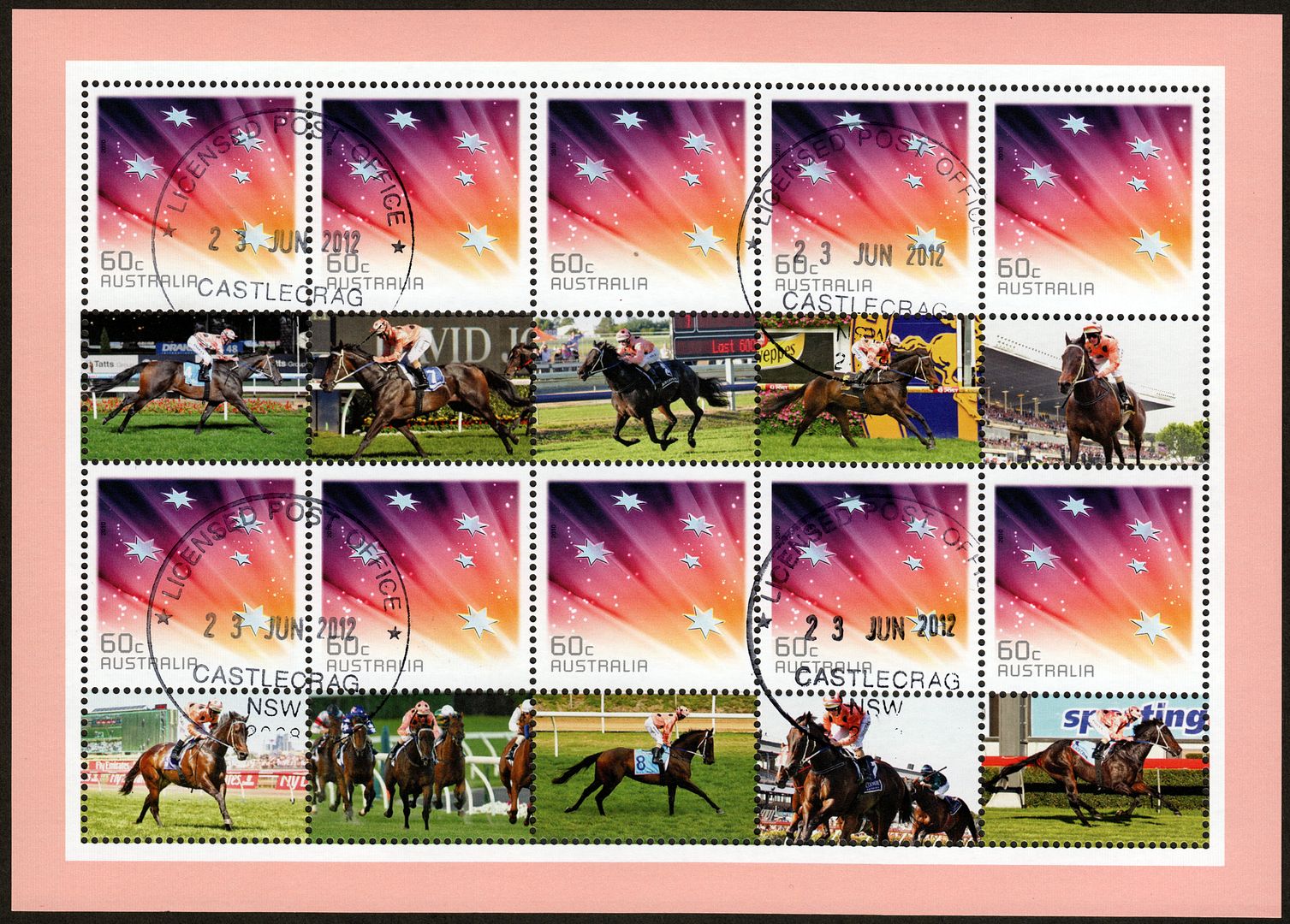 (All orders of course get the PAIR of these sheets - i.e. 20 different stamps.)
As mentioned elsewhere, on Saturday I created a limited number of sets of these with the cancel of June 23 - the historic date she became in all minds
THE best racehorse we will EVER see in our lifetime,
and bravely won the Queen Diamond Jubilee Stakes
at Royal Ascot.
The Queen presented the cup to trainer and owners and jockey etc, and patted the horse after the race as you can see! Win number
22 in a row
- in top company.
So I thought that cancel date was especially worth doing. I'd had the foresight to secure a decent stock before they sold out, so was in the box-seat here! No other dealer had more than a few packs on hand.
Australia Post rush released these packs of 2 different sheets of 10, and did

NOT

offer a FDC,

nor

was there any official FDI date.

NOR

did they offer CTO sheets for sale.
Collectors of USED or COVERS were thus not catered for at all by AP in this rush release.
These likely are the ONLY sheets of 10 cancelled on that day, and will outnumber mint by 1000 to 1.
Chris de Haer LATER discovered the 60c stamps are a different size and perf than any stamp ever issued, and are thus destined to have their own Catalogue listings. So a DOUBLE Whammy.
And never forget Horses are a VERY large topical subject globally, as is racing and racehorses.
THE hottest thing on the Australian stamp market in decades

.
The pack sold out lightning FAST from the PO's who ordered them, as the Mum & Dads out there snapped them up in days, such was the Caviar Frenzy! History tells us that 95% of those packs will
never
emerge onto the stamp market.
Australia Post Philatelic Mail Order long ago sold out of ALL Black Caviar stamp product, even Mint packs -
http://shop.auspost.com.au/collectables/impressions/sport/black-caviar/sku/0310362
I took along a special ink-pad of fast drying ink to do them all on that Saturday, or otherwise the PO water based ink pad cancel smears and smudges, and the ink "pools" and looks
really terrible
on high gloss surfaces like this. And takes an hour or more to dry.
For anything I do, I want it to be
THE
highest possible quality possible. No cheapie tissue thin acidic, Woolworths grade envelopes here.
Thick grade
, very top quality Brite-White cartridge paper was carefully chosen for rigidity and visual appeal and stability. Classy and attractive to own.
Each fits easily into a #1 Hagner, or stockbook page, or FDC album. The cover sets are getting $US100 on ebay as I type this, from the sole seller who had a few sets only - another stampboarder actually -
http://tinyurl.com/CaviarCover
Two buyers of these asked me to sign and hand date vertically down left, and the other wanted me to do that on back - no problems if you specify either on order form.
I can offer the cover, and used sheets on June 23 Race Day, and mint packs as well if required of course.
In the photo above I have shown only ONE of the 2 sheets on cover, and only 1 in CTO .. all orders of course get BOTH sheets.
All orders for the CTO and covers will of course be supplied with the Deluxe pack outer as well
in each case
, so you can file them away with that - a MOST classy product.
As collector needs will vary, and many here are dealers and ebay re-sellers etc, I have offered varied packages below that should suit all buyers.
Cover Set Number 001 I will offer as a giveaway in a competition here - that is probably a $150 item ...
1. The

pair

of Limited Edition numbered covers - 1 set $A50 (Code 529LR) 5 sets $A200 (Code 529LS) 10 sets $A300 (Code 529LT)

2. The superb

full gum crisp cds June 23

sheet pair - 1 set $A35 (Code 529LN) 5 sets $A135 (Code 529LP) 10 sets $A240 (Code 529LQ) 20 sets $A425 (Code 529LD)

3. The superb MUH

sets

of sheets - 1 set $A30 (Code 529LE) 5 sets $A115 (Code 529LG) 10 sets $A215 (Code 529LH) 20 sets $A400 (Code 529LJ)

4. One each of the above 1-3 -

Save $15!

$A100 (Code 529LU) 5 sets $A400 -

Save $50

(Code 529LV) 10 sets -

Save $A155

- $A650 (Code 529LW)
Please keep chit-chat
**OUT**
of this thread - the other one was derailed with bookmaker's ticket photos, and all sorts of off-topic diversions during the excitement of the race etc - start your own thread on that stuff please if you must.
THIS
thread is for orders from those who want to order the stamps please, so I can keep easy track.
Stock is on hand for all the above, and will be mailed the same day of order. Shipping on overseas orders is VERY inexpensive on these.
Thanks, Glen
=========
Remember, adding another lot of
mine
(posted by either
Admin
or
GlenStephens
or
Global Administrator
, or
ozstamps
) - here (or on my website) for sale in general
adds ZERO
to your shipping cost, so have a good look at what is on offer here in case something else appeals:
http://www.stampboards.com/viewforum.php?f=27
All payment details are on -
http://www.glenstephens.com/payment.html
Call it "Caviar" - and use the CORRECT code above and please order

SECURELY

via:
https://www.glenstephens.com/order.html
For overseas members, to find out the approx cost in YOUR currency, click here -
http://www.xe.com
MONEY BACK GUARANTEE
- don't like it - mail it back within 48 hours of receiving it. No-one ever has yet.
- and "lay-by/layaway" is always possible - email me with any queries to glen [at] glenstephens.com -
OR

"trade-ins"

always possible!
If you have a pile of surplus stuff I may well be happy to offset that against this item - see
http://www.glenstephens.com/buying.html
As most know - I do NO fairs or shows, have NO shop, and do NOT bother with ebay or other auctions. I buy endless bulk lots from Estates, and distress sales etc, in this massive city, and offer it here at NETT prices for fast turnover. NO "20% Buyer Fees" to add to
my
prices, as in auction!
And many similar mouth-watering NETT price offers are being loaded weekly onto -
http://www.glenstephens.com/rarity.html
and
http://www.glenstephens.com/specials.html
All stampboard lots under $A200 are mailed Unreg'd, as reported delivery problems are near nil. If Reg'd is required,
STATE that on order form
– cost is extra $A4 local, and minimum $A13 extra foreign. 'All risk' Insurance is always possible if required, at $A2 per $100 covered - again it
must
be specified on order form.
For members who make a BANK TRANSFER payment you

WILL

generally get your goods faster, as it saves me some hassle - but you MUST email me the confirmation number etc - many "forget"!
.