Here's a mixed lot of U.S. and State Revenues, plus a beautiful 10c Banknote issue, Scott #209. Price, US $20 postpaid.
This 1865 Indiana Warranty Deed is larger than the scanner glass, so you are only seeing about 75% of it. Note that all four revenues are heavily creased along the document "fold line." This deed has an interesting feature, in that there are two different series of 25 cent revenue stamps; 3 are "Power of Attorney," and 1 is "Life Insurance."
They are pen-cancelled rather than cut-cancelled, adding slightly to the value. The deed details the purchase of 22.5 acres (9.1 hectares) for $800 near the end of the Civil War.
======
This 1954 Ohio Warranty Deed has 6 Documentary Tax revenues in excellent condition; 3 x $10, 2 x $4 (scarce denomination), and 1 x $0.50. The stamps catalog $25.05 in 2008 Scott. Again, the document is larger than the scanner glass, so you are seeing 75% more or less.
======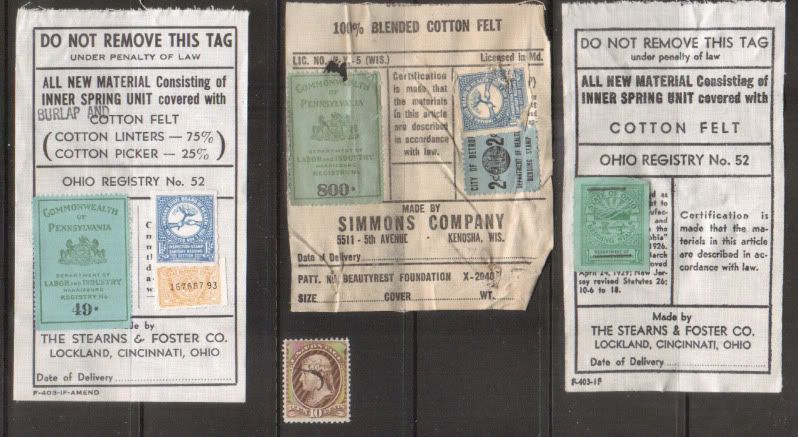 This scan shows three 1950s (?) mattress tags with a variety of state revenue stamps from Pennsylvania, Indiana, Texas, Ohio, and the city of Detroit. Most such tags were removed and destroyed when the mattress was purchased.
This scan also shows a beautiful 10c Banknote stamp of 1882, the re-engraved variety Type A49b, with a small ink cancel. Unlike Commonwealth stamps, a pen-and-ink cancel does NOT indicate revenue usage; probably 10% to 20% of the early U.S. stamps on letters were pen-cancelled; this is a great (!) copy with zero defects, bold color, and exceptional centering. The diagonal bars around the portrait are caused by the scanner.
Nice unusual items for the U.S. collector.
Foreign buyers PayPal or US currency. US buyers PayPal, check, money order, or cash. Email me, I will send you my private PayPal account name (it is not screenwriter77).
No anonymous Buyers, please; to purchase the item, you must post "Sold to your-SB-name" into the "Sales" thread. I am not allowed to post "Sold" for you.
Temporarily, I am not able to receive emails through SB, but I will check back for new posts (or a "sold to") several times a day.
Deal with complete confidence -- I have perfect 100% positive 1982 Feedback on ebay, user ID screenwriter77. This item available HERE for 30 days.