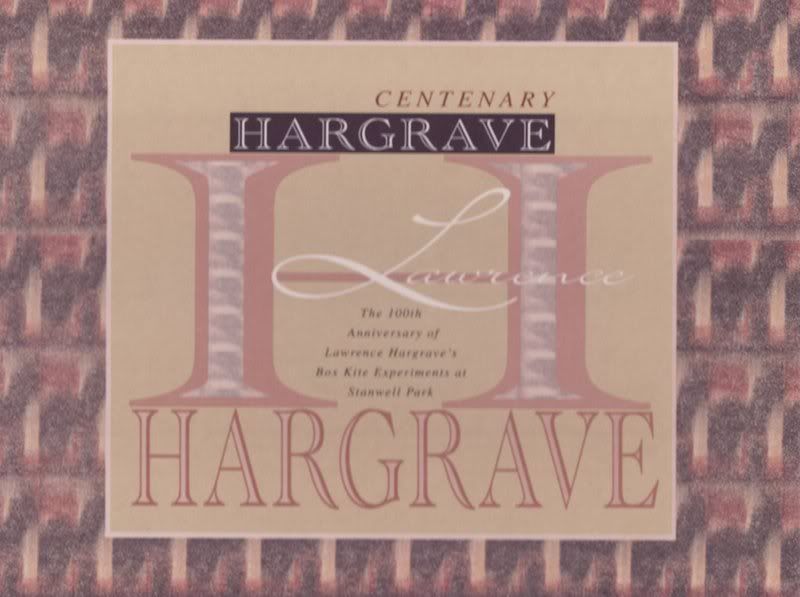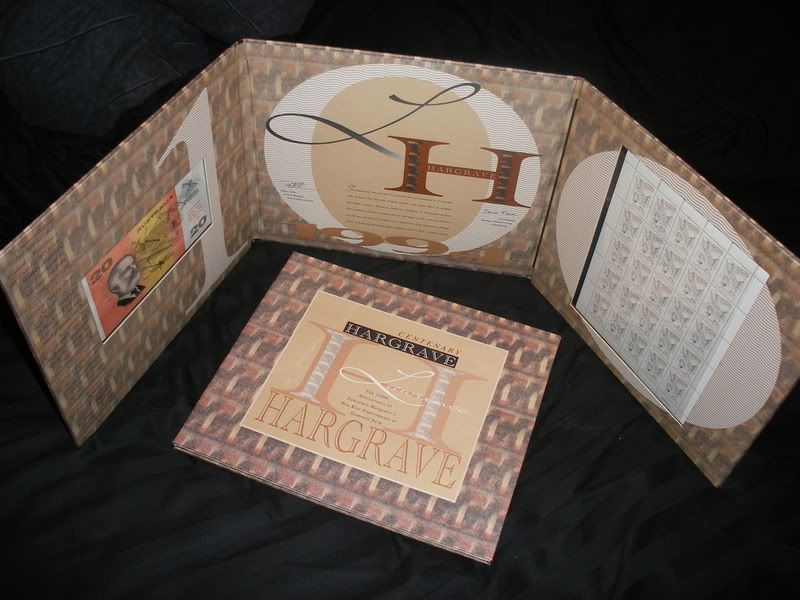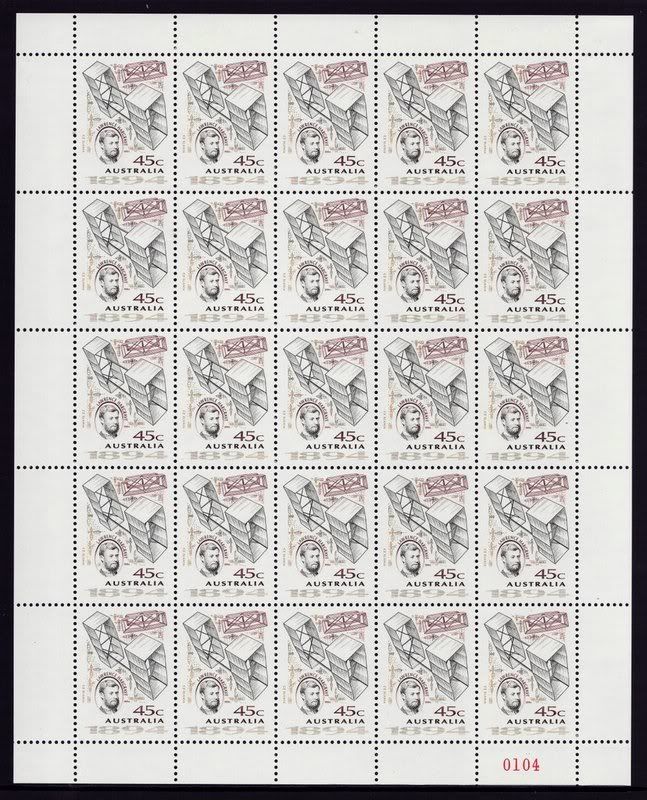 Limited 1994 Ed. Deluxe Hargrave Stamp/Banknote Portfolio: Slania
$A80 for Black and $A150 for Red
The special Note Printing Australia numbered Banknotes in all cases match the number on the special stamp sheetlet of 25.
These
sheetlets of 25
were available no other way than in these portfolios. This is the
ONLY
way to get them.
There is always demand for these from Europe especially as
Czeslaw Slania
engraved it - the only stamp set he ever did for Australia.
Slania is a legend,
and is a cult figure among collectors worldwide - as you can see :
http://www.slaniastamps-heindorffhus.com/
The folders are a really deluxe thick heavy board 3 fold affair - this is the front cover: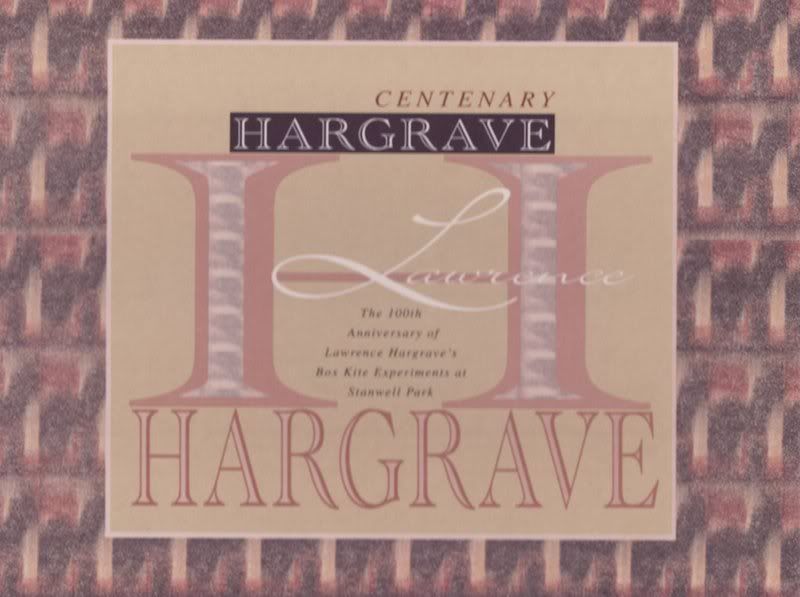 And here is some info off the back cover: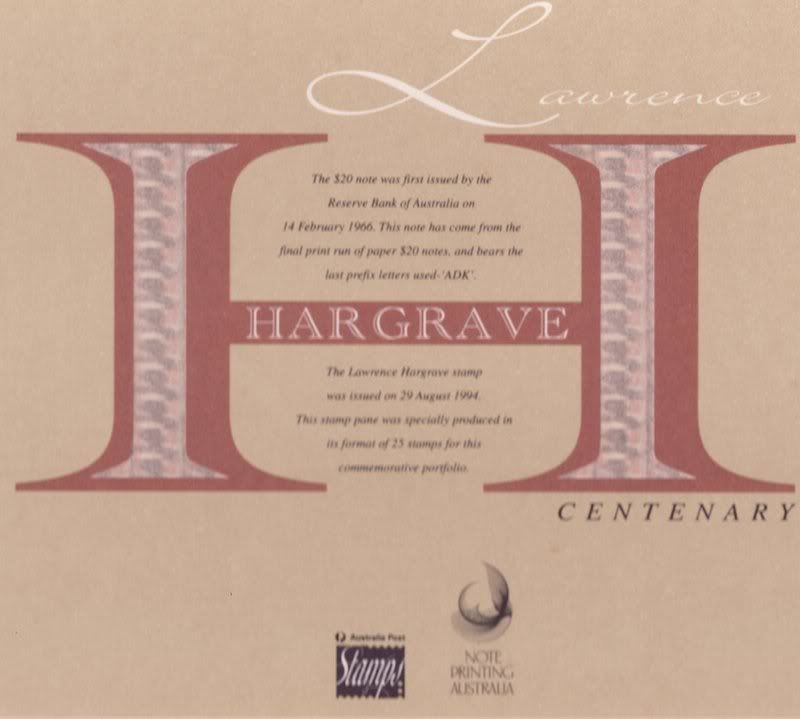 I have a set of these portfolios in stock, both black and red.
These also have a special UNC paper banknote of the $20 paper Hargraves banknote.
This banknote is a special one - being the LAST 1994 Fraser/Evans printing with ADK prefixes. and red oveprrint
These are scarce - and are cat as McDonald 196b at
$130 each in black
in uncirculated condition as these are.
They are superb portfolios and I sell a lot of them.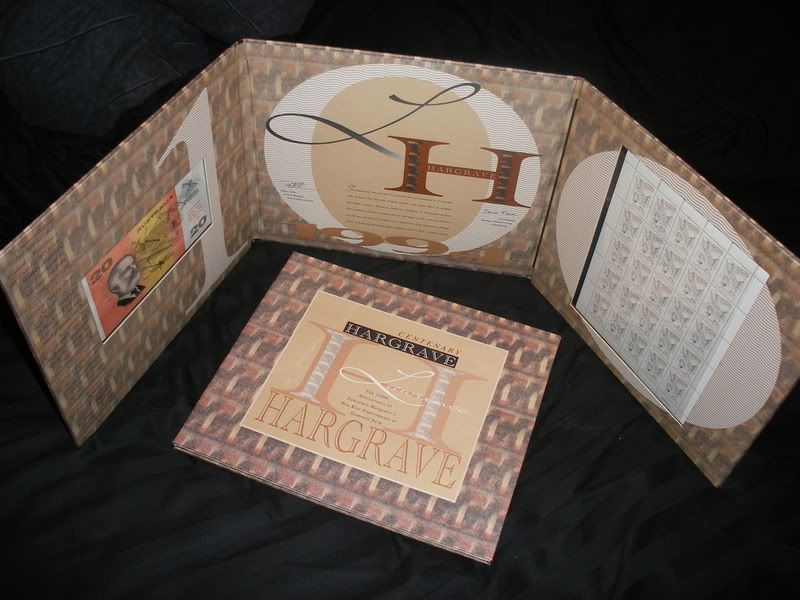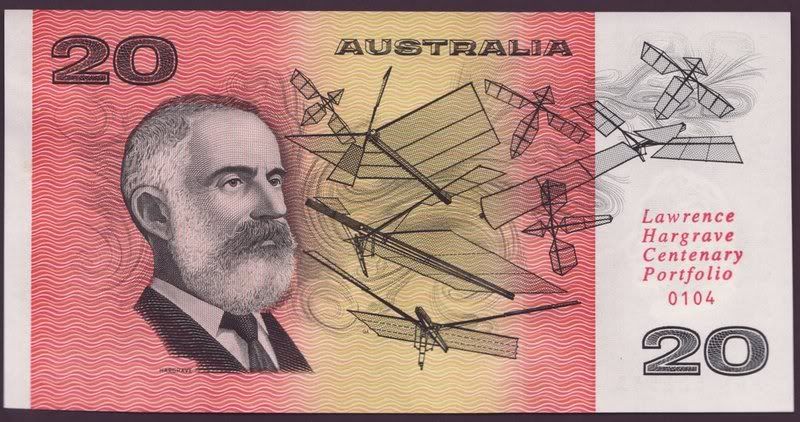 The

issue price

of these was $175 for the red, and $95 for the Black.
They were produced in limited numbers, and sold out almost immediately
The ACSC current catalogue value is $250 for the red and $120 for the black.
These of course are keenly collected by numismatists as well.
They are illustrated and priced in the leading McDonald Coin and Note "Bible" catalogue.
This banknote is a special one - being the LAST 1994 Fraser Evans printing with
ADK
prefixes.
These are scarce - and are cat as McDonald 196b at

$120 each

in uncirculated condition as these are.
----------------------
Price is

$A80 plus post for black number and $150 for the red.

- all credit cards OK, also PayPal and bank transfer etc.
I have a quantity of black - buy
5 black numbered Portfolios for $A325.
Or buy Five of the Deluxe portfolios with the special $20 banknote only in there - all also in the white storage boxes -
5 for $250.
These are scarce - and are cat as McDonald 196b at
$95 each
in uncirculated condition as these are.
$A80 each - for either the Hargraves
or
the Famous Women identical type.
Or
the both for $A140
-- save $A20.
Or for re-sellers on ebay etc -- FIVE OF EACH for $A500. (That's $50 each!)
All come in a special heavy cardboard white box - 1" thick, to store these Portfolios in securely.
I also have the near identical 1993 45c Famous Women Portfolios with the

Famous Women numbered sheetlet

of 25, and the $10 paper note. Same price. (They had same issue price as well.)
Prices for either type -
$A80 for Black and $A150 for Red
1994 Lawrence Hargrave Red *AND* Black number stamp sheets 25, in Folders - Ret $300
I bought today some of the quite superb and lavish Note Printing Australia/Australia Post productions. They generally did a VERY small run in red numbers that always sold out in advance via a "lottery", and a 1000 or so more in BLACK numbers.
The RED numbers are incredibly keenly sought and often get $200 a block alone.
The owner was a note collector so he kept the notes, and sold me the stamp sheets and lavish multi gate-fold heavy board folders, with David Maiden guarantee and verification etc.
The PO did NOT issue these in sheets of 25 - only in these packs.
The numbering and any overprinting was done by AUSTRALIA POST and of course are 100% official.
One almost never sees these on the market as most were bought by note collectors, who have kept them intact.
Have not been sold these in 10 years .. they really are scarce
This stamp block was steel engraved and printed in Sweden -- a FIRST for Australia
Cost price was $280 a set
and retail today is higher - $300 as you can see.
If you want the numbered Hargraves banknote a client has a spare set he will sell for $40.
Also the matched Eminent Women red and black numbered sheets of 25 in similar deluxe folios are offered here -
http://www.stampboards.com/viewtopic.php?f=27&t=31404
=========
NOTE: - Most parcels leaving me this month will have these GEMS as part of the franking!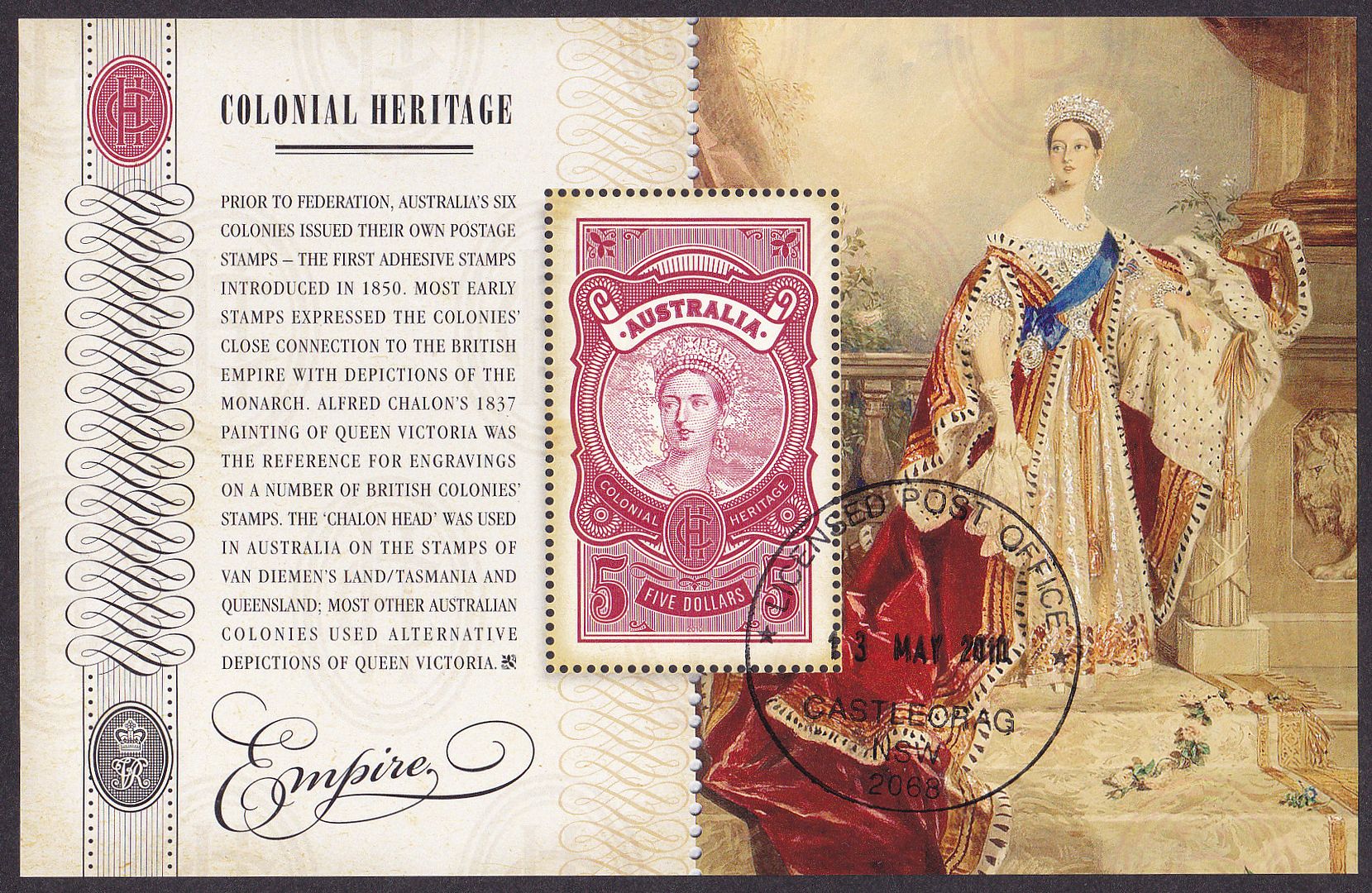 Remember, adding another lot of
mine
(posted by either
Admin
or
GlenStephens
or
Global Administrator
, or
ozstamps
) - here (or on my website) for sale in general
adds ZERO
to your shipping cost, so have a good look at what is on offer here in case something else appeals:
http://www.stampboards.com/viewforum.php?f=27
All payment details are on -
http://www.glenstephens.com/payment.html
Call it "Hargrave Port : Stock 297HQ" and please order via:
http://www.glenstephens.com/order.html
For overseas members, to find out the approx cost in YOUR currency, click here -
http://www.xe.com
MONEY BACK GUARANTEE
- don't like it - mail it back within 48 hours of receiving it. No-one ever has yet.
- and "lay-by/layaway" is always possible - email me with any queries to glen [at] glenstephens.com -
OR

"trade-ins"

always possible!
If you have a pile of surplus stuff I may well be happy to offset that against this item - see
http://www.glenstephens.com/buying.html
As most know - I do NO fairs or shows, have NO shop, and do NOT bother with ebay or other auctions. I buy endless bulk lots from Estates, and distress sales etc in this massive city, and offer it here at NETT prices for fast turnover. NO "20% Buyer Fees" to add to
my
prices, as in auction!
And many similar mouth-watering NETT price offers are being loaded weekly onto -
http://www.glenstephens.com/rarity.html
and
http://www.glenstephens.com/specials.html
All stampboard lots under $A200 are mailed Unreg'd as delivery problems are near nil. If Reg'd required,
STATE that on order form
- cost is extra $4 local, and minimum $13 foreign.
As per stampboard convention - this lot is offered exclusively to board members - and on no other sales venue.
For members who make a BANK TRANSFER payment you

WILL

generally get your goods faster as it saves me some hassle.
.