Postmark: Drem 359 - Jan 5, 1880
Origin: Drem, Lothian, Scotland, UNITED KINGDOM
Destination: Amélie-les-Bains, FRANCE
Stamp GB QV 1873-80 SG#141 2.5d Rosy Mauve - Plate 13.
Envelope Maker W & J Milne, Princess St, Ednburgh
Condition good - refer scan.
Price AUD $20 + Worldwide post AUD $3.00.
Aus. Bank deposit or Paypal (+4%).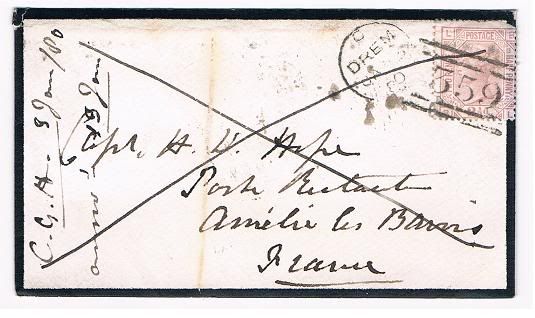 Description: Mourning Cover. Addressed to Capt H W Hope (Herbert Hope). Vertically written C.G.H 5 Jan 1880 - refers to Caroline G Hope (sister).
Sent from Luffness Castle, sometimes known as Luffness House or Aberlady Castle - a castle of 13th century origin in Luffness, in East Lothian, Scotland. The castle is historically part of the entail of the Earls of Hopetoun. It is believed that the original castle was a significant fortress, founded by the Gospatrick Earls of Dunbar and March. Its position allowed it to protect landings in Aberlady Bay, and Haddington, which lies a few miles inland. On the death of the crusading eighth earl, the property was presented to the church, so that a Carmelite friary was founded in the ground in 1293.
Hope Family Luffness
http://www.scc-online.org/ph05nov.pdf
Caroline G Hope
Herbert Hope
http://www.scottishfamilyheritage.co.uk ... fness.shtm
http://canmore.rcahms.gov.uk/en/site/55 ... ess+house/
http://en.wikipedia.org/wiki/Luffness_Castle
http://en.wikipedia.org/wiki/Charles_Ho ... f_Hopetoun
http://en.wikipedia.org/wiki/Charles_Hope-Weir
http://en.wikipedia.org/wiki/John_Hope, ... f_Hopetoun