NOTE: I am not able to SEND or RECEIVE emails through SB, but I will check back for new posts (or a "sold to") several times a day.

Contact me, not thru SB, using 124cac3a499c}at{gmail.com
[remove brackets and replace at]
=====
Someone was looking for Panama-Pacific Exposition items, so I put these up for sale. Price for the pair, US $12 postpaid.
One postcard has the 1c perf 10 (Scott #401) and the other has the 1c perf 12 (Scott #397). The card with the perf 10 is a bit browned from age, but the stamp is fine; it is an unusual copy, being from the lower left corner of the pane, with a prominent guide line. No faults on either stamp.
The perf 12 is lightly-cancelled. In the 2008 Scott Specialized, the stamps cataloged $16 and $3.50 "on cover" respectively.
The postcard of the perf 10 also happens to be a nice example of the "Pennsylvania State Building," hand-tinted. There's a small corner defect at upper left, but it does not affect the stamp on the other side. This card is worth $5-7 to postcard collectors.
The postcard of the perf 12 shows "Thames Hall," a dormitory at the Connecticut College for Women, New London.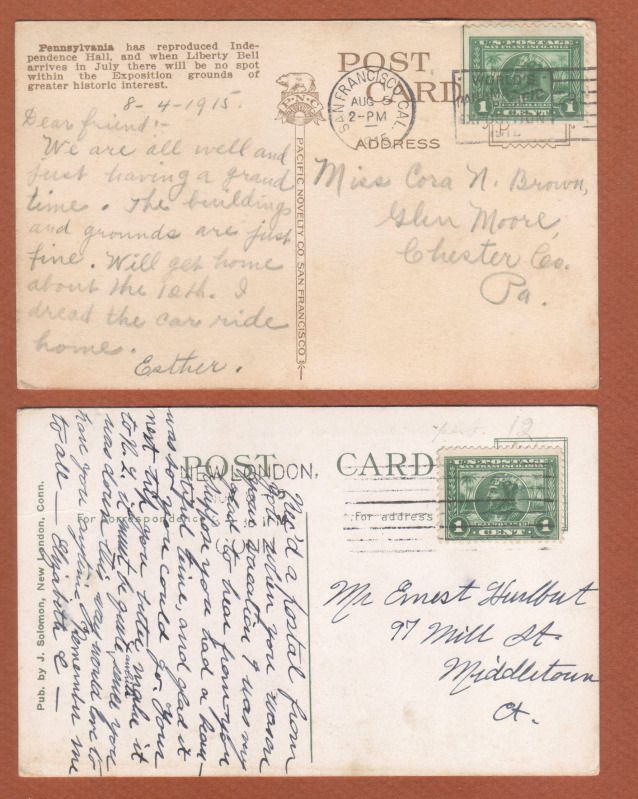 =====
Foreign buyers PayPal or US currency. US buyers PayPal, check, money order, or cash. Email me, I will send you my private PayPal account name (it is not screenwriter77).
No anonymous Buyers, please; to purchase the item, you must post "Sold to your-SB-name" into the "Sales" thread. I am not allowed to post "Sold" for you.
Deal with complete confidence -- I have perfect 100% positive 2008 Feedback on ebay, user ID screenwriter77. This item available HERE for 30 days.