All concerned
Allanswood
Quote:
Well it did elicit comments from both sides of the argument. It's just a photoshopped mockup, you can see that from a mile away.
Well I certainly did not spot it. I do actually have Photoshop on my MacBook Pro but have never used it myself relying on Graphic Design friends to help me out - so that makes me look both stupid and lazy. More fodder for the critics!
Anyway thank Heavens you did not use the guillotine.
Now this is an example of me improving my computer skills, not by much, of course, since I have lost the originals in iPhoto when they were cropped, transferred to Documents and then to Photobucket.
A triangular block of four of the 1855-63 4d. Blue on white paper, as it was purchased by me in a Spink sale in March 2002. It had a hinge with a notation in turquoise ink indicating that the consignor had purchased the item from Stanley Gibbons.
I found out from checking prior sales that the block was originally in the H. R. Harmer, Inc. Alfred H. Caspary, British Commonwealth, Part Three, Possessions in Europe, Asia and Africa, February 24-26, 1958 Sale as Lot 269 - as a block of six - see below. It realized U.S. $150.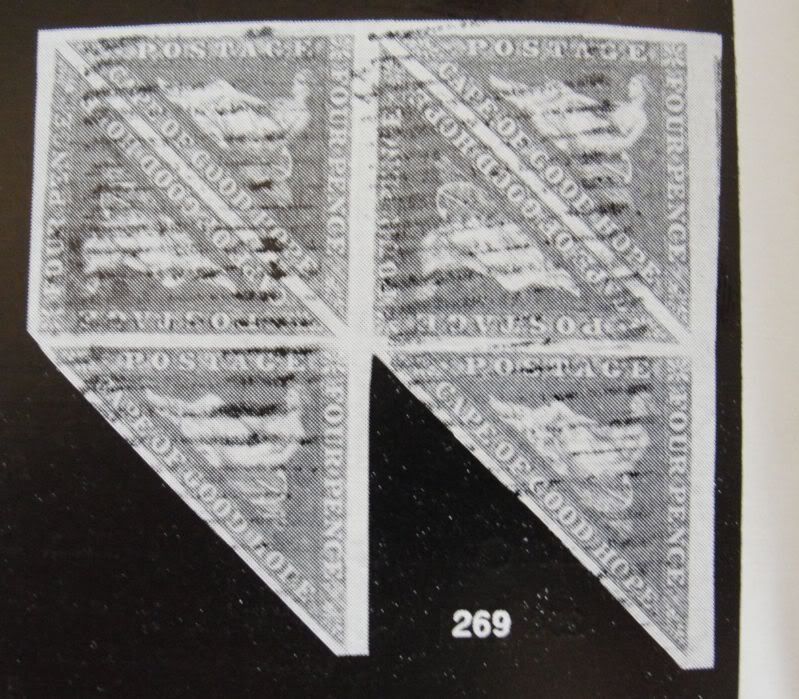 I have yet to find out from an old boss of mine whether Stanley Gibbons was the original purchaser of the block. He has, I believe, microfilm copies of the auctioneers copies of the sales' catalogues.
So it is possible, at least, that Stanley Gibbons, the world's best known retailers, performed the surgery on what was a most unusual block of six.
I feel that this surgery would be welcomed by most other Stampboarders.
Kindest regards
Richard Debney