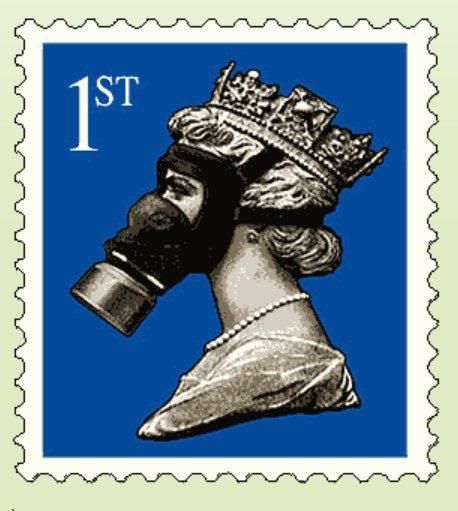 BRIGHTON, England—Britain's post office is not amused that a hip art gallery in the south of England is selling posters of mock stamps featuring Queen Elizabeth II in a gas mask.

Britain's Royal Mail fumes over stamps of gas-masked queen

"Our legal services have just written to the gallery and informed them that they are infringing our copyright and to please stop," a Royal Mail spokesman told AFP.
But the Artrepublic gallery in the seaside town of Brighton said it had no intention of withdrawing the silkscreen anti-war posters by local artist James Cauty either from its walls or its Internet site.
"We are very surprised by the reaction from Royal Mail," said Artrepublic's owner Lawrence Alkin.
Styled like genuine stamps, with the monarch's head in silhouette and a gas mask over her face, the posters titled "Black Smoke, Stamps of Mass Destruction" come in first, second and third class denominations.
They sell for 470 pounds (767 dollars, 655 euros) each.