Handcurved rubberstamp die.
Bangladesh does not rank high in popularity as a collectible field, despite the fact that the recognised philatelic history of the nation dates back to 1776. (The earliest recorded Bishopmark of India is addressed to Dacca -- now Dhaka -- the capital of Bangladesh).
As part of Pakistan (1947-1971) the region now comprising of Bangladesh (then East Pakistan) witnessed a early provisional period up to 1949. Material from the hitherto East Pakistan are eagerly sought after by all "Pakistan on India" collectors.
Bangladesh emerged as an independent nation on 26 March, 1971. After 9 months of bloody war, the country gained victory on 16 Dec, 1971.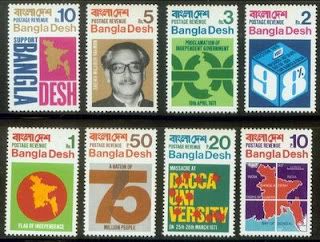 8 value set. Propaganda labels issued by the Bangladesh Government in exile.
This was later given postal validity after independence. Usages, however, are scarce.
On 20 Dec. the government in exile during the Liberation War took office and the Director General of Bangladesh Post Office issued a decree ordering all existing stock of Pakistan stamps, and stationery to be handstamped with the words BANGLADESH in English and Bengali. A similar notice from the Ministry of Finance in late December ordered handstamping of all fiscal stamps.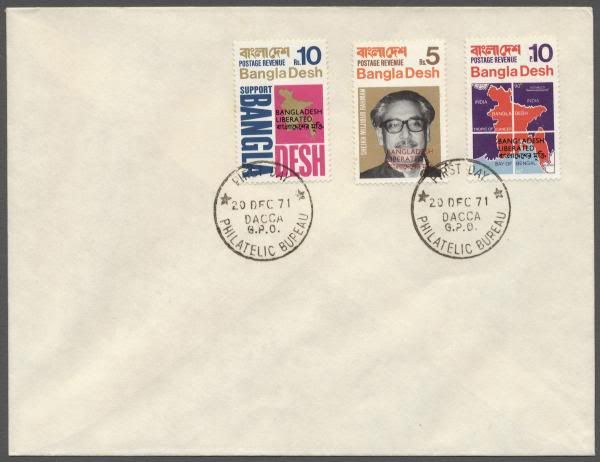 First day cover of the 3v Bangladesh Liberated issue.
Postal usage is not recorded as supply was low.
Pakistan postage stamps became obsolete on 29 April, 1971. Postal stationery on 7 October 1974. The date of demonitisation of fiscals can not be acertained but recorded usage puts the date to late 70s to early 80s.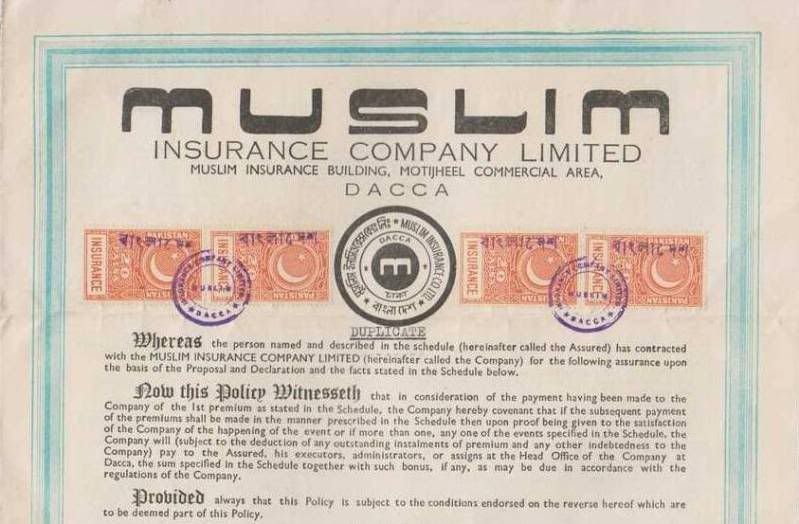 Bangladesh overprint on Pakistan insurance stamps.
Note the similarity of the ink of the handstamp and the office seal.
Overprint carried out by the company.
Little has been written about this fascinating subject. The first major work on these issues was done by Wolfgang Tornow of Germany in the early seventies. Contemporary philatelic press of India, the UK and also the USA featured articles on Post Liberation Provisional Issues of Bangladesh.
Beginning in the mid eighties, Max Smith printed a series of articles in India Post, the Journal of the India Study Circle of Philately. This is, till now, the most accurate rendition of the history of the overprints. Further works, especially on the aspects of postal history was done by my dear friend, Ishtiaque Ahmed Khan before his untimely demise at the age of 38.
I have collected Bangladesh Provisional Issues since 1993 and have exhibited twice at the International level with mediocre results. I was advised by the jury and collector friends, and quite rightfully so, to write more on this complex subject.
The working title of my book is -- Post Liberation Provisional Issues of Bangladesh. I would request members of this board to guide me through this Himalayan task.
If you have any material on Bangladesh handstamps on Pakistan; please feel free to post them here. If you have any questions, ask! This may well be a learning experience for the both you and I.
If you have any tips on how I should start compiling my data; suggest styles of citation...anything that can help me, I will be most grateful