And to finish this batch, a cover with multiple marks.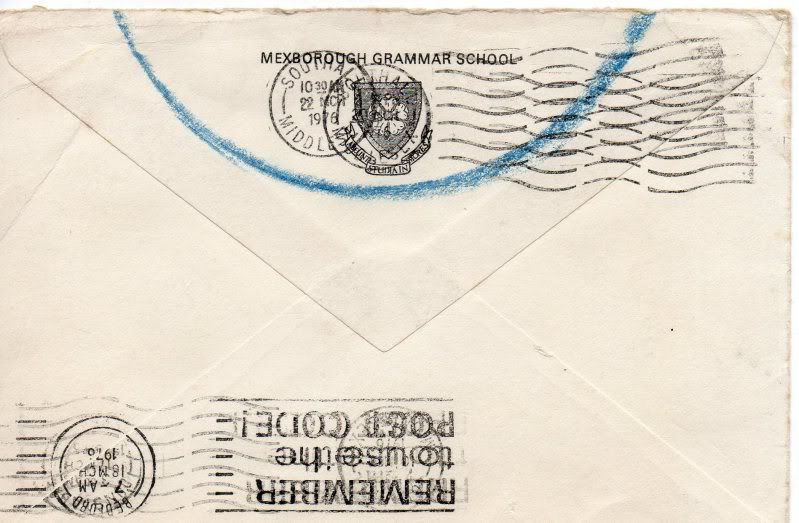 Sent in a Mexborough Grammar School envelope in March 1976 to Harlington. Harlington is a small village about 2 kilometres north of Mexborough.
But the letter seems to have been posted in Sheffield. There is a postmark:
Sheffield. 12 May 1976. "Remember to use the Post Code!"
If only they had thought to "Remember to use the Post Code!". Somebody thought it might be the Harlington near Bletchley in Bedfordshire. But it wasn't and has been sent on from Bedford:
Bedford 18 March 1976 "Remember to use the Post Code!"

If not Harlington in Bedfordshire, it might well be the Harlington which is part of Hayes and Harlington in Middlesex (now in the London Borough of Hillingdon).
But it was not:
"No Such Street/Place in ... ... ... ... ... ..." with "Hayes / Middlesex" inserted. Hand stamped cachet in violet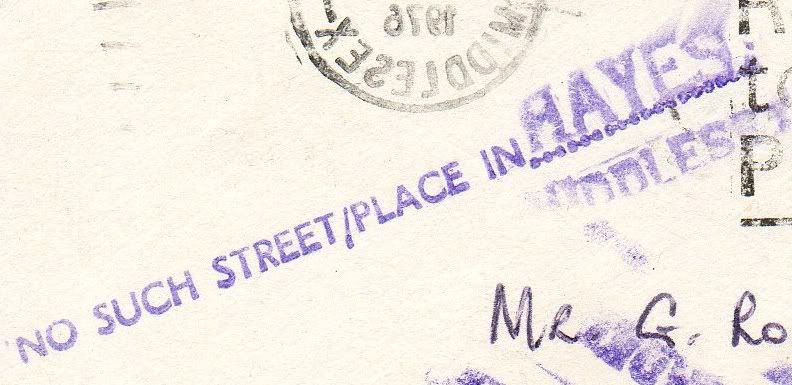 So it has been sent back with a boxed two line cachet hand stamped in violet:
"Undelivered For Reason Stated / Return to Sender"
It is now postmarked from Southall in Middlesex:
Southall / - Middlesex - 20 March 1976 with 7 wavy lines:
Bottom post mark here but there is also an offset:
It has gone round back to Southall, so somebody new has written "P.T.O." in blue pencil on the front and circle the Mexborough Grammar School badge on the back.
It has the been resent from Southall on 22 March 1976:
Top postmark now.
When it got back home to Mexborough, it has been opened. According to the lady I got this from, the contents were then put in a new envelope and sent properly addressed.