Ebay have revamped the rules re forged and faked and replica and counterfeit stamps.
Sellers now MUST mark fakes indelibly on reverse, and load a photo of that marking into the lot description.
Alterations (that includes forged perfins, oveprints and cancels) and repairs MUST be noted now if known to seller, and sellers offering conga lines of the same fakes clearly DO know!
http://pages.ebay.com/help/policies/currstamps.html#replica_stamps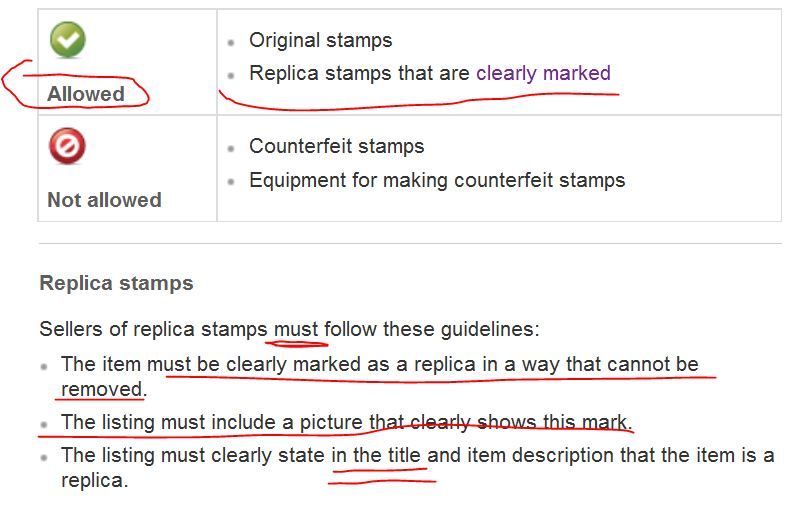 Also on EVERY ebay lot there is a
"Report Item"
icon – whether the sale is ended or not.
Reporting that via the simple drop-down options as shown below is a 5 second operation -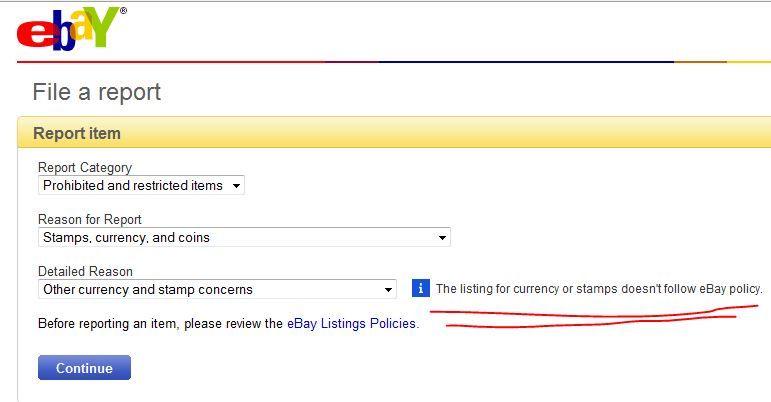 If ebay gets 5 or 10 reports on any given items they WILL generally take notice. They usually warn the user and remove the lot. Sellers getting several such removed lots are in trouble.
Let's use 'people power' to stop this material getting offered.
Everyone "hoping" others act, will get nothing done - like most things in life! It takes
teamwork and a Community Spirit
, and the dodgy and misleading lots will be FAR less.
ebay now have set up a fast new portal JUST to report suspected sellers of forged stamps at -
http://www.tinyurl.com/ebayfakes
- also found at -
http://www.ebay.com/scw-
there is space for 10,000 characters in your reply, so all the relevant info can be added. Unlike most ebay complaint forms that allow 100 characters etc.
Please take a moment to do BOTH ….. do the "Report Item" drop-down, and give a summary on the link above.
Most likely they will go to 2 different ebay staffers, and that is double trouble for the fakers.
Some staffers ignore such stuff, others are more pro-active – it is a lottery.
However several reports on any single item can be seen by all staffers looking at it, and that generally gets some action.
Even if 4 staffers have ignored it, the 5th staffer might see 5 reports and decide to act etc.
Glen