Used cals are
very
sought-after in NZ, and always sell for
MORE THAN FACE
, perhaps the only stamps to do so, among current issues.
(As long as the posties don't maul the stamps with evil postmarks, as they so love to do!)
This means that some collectors have now managed to in effect get their parcels posted "
free
" by getting the cals returned from non-collecting recipients.
Here is a random selection of used cals I have offered on Trademe: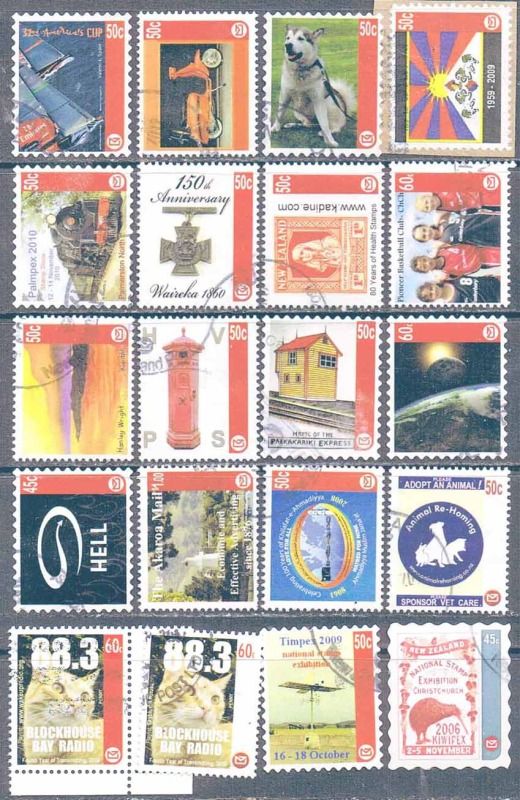 NZ cals: 20 used. Train, Tibet, Cat, Lighthouse,
Description:

20 of the unusual personalised stamps known as "cals" that NZ Post produces in limited editions to clients' requirements.

These are all postally-used, and include:

50c ... America's Cup yacht race.
50c ... Orange Lambretta.
50c ... Tibet flag.
50c ... Dog.
50c ... Steam train.
50c ... Victoria Cross medal.
50c ... 1929 Health, nurse.
60c ... Pioneer Basketball Club.
50c ... Kaiapoi.
50c ... Pillar box.
50c ... Paekakariki Signalbox.
60c ... Space scene.
45c ... Hell Pizza.
$1 ... Lighthouse.
50c ... Khilafat e Ahamadiya.
50c ... Animal Re-homing: rabbit, puppy, kitten.
60c ... Blockhouse Bay Radio cat (2 different, one with corner selvedge!).
50c ... Richard Pearce aircraft.
45c ... Kiwi.
====

The Tibet flag is still attached to its piece of envelope, as I am unwilling to take the risk of ruining such an elusive stamp by soaking it.

Unusual to find modern stamps as well-presented as this, particularly considering NZ Post's deteriorating reputation for ruining stamps with atrocious postmarks. Most of the CALs (now listed by several major catalogues) are issued in limited editions of 1,000 or so. It is unusual to locate many used ones, as most are targetted to members or clients of the issuing organisations.

I will use a cal on the envelope when posting these to the lucky winner.
This item has several bids already, and after it is sold, I will assemble another selection of 20 used cals and offer them.
I get most of my used cals by buying the collector packs (containing the full year's issues) from NZ Post, then use them to pay postage when I send 16mm movie films to friends. Such parcels are heavy, so lots of cals are used to make up the rate.
Most kiwis find it hard to obtain used cals, as most are done in limited editions and go to targetted audiences. But some inevitably end up in kiloware.
So yes, I do recommend collecting these, if you want something out of the ordinary. But they are unlikely to be listed by Scott and Gibbons any time in the near future. However, a kiwi,
Bernie Styris
, published a colour catalogue of them a while back, but this is almost as hard to find now as
Cal Number One
!