Katchem_ash wrote:
One of the only few Mughal stamps I did like was ................
Mughal stamps???? What era are we talking about???
opkedia52 wrote:
The price of 2009 collector pack was Rs. 800 (Approx. 11.5 Euro) but the stamps were only less than 650 INR(< 10 Euro).Because India Post supplied 2009 Pack in 2011 either they collected interest for the money blocked or premium to milk the collector who didn't open a philatelic account with bureaus.

No.... The reason is absurd...
The 2010 stamps FV is around 500INR but the PO pack costs 670INR. A 33% excess in FV.
Do you know what is worth the extra 170INR???
THIS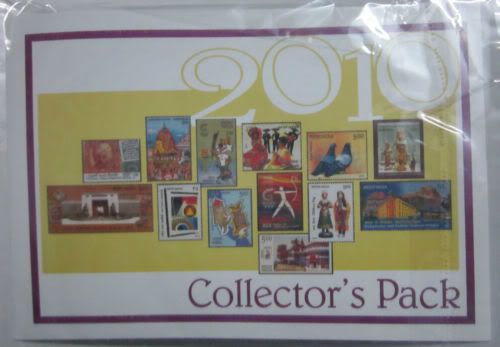 The cover costs extra bucks it seems....
Who said this??? The Chief Postmaster of GPO.
If Indiapost could charge extra for above stuff I cant imagine what they will do if they release Yearbooks like other nations???
I collect India and even with a PD account I have on two occasions in past missed out on miniatures being sent by Department. Krishna Deva Raya of FV around 10c now sells for 2USD.
Indiapost NEVER cared for collectors in past and never will they do so in future...
A person buying stamps for 3000 INR with many sheets of stamps gets more respect than someone who walks into the counter and asks for 1 each of past issue just to have them in my collection.
Adding to the poor printing Quality I would say the quality of theme is also poor....
Who from a foreign nation would love to have 5 of this stamp on cover
than this???
_________________
Started to collect post-Independence India, help me complete the voids
http://www.stampboards.com/viewtopic.php?f=9&t=29439
Collecting Canada (just started) and CHESS on stamps.!!!!!!