capetriangle wrote:
admin
Neither of the "7's" would show as anything else but
unprinted
paper. It is what surrounds them which is suspect.
Richard - I have always stated just that - that true 7s in any plate of this stamp are not bearing
ink of any kind
in the 7 area. Under them included, and being part of them! It does seem patently obvious, but some cannot grasp that idea.
You have just
entirely contradicted
your own curious theory - that these number 7s are PAINTED IN with white paint. How can you have "unprinted" white paper and "painted in white over red" as being the same thing in your head?
Let's go through this all over again for you.
The genuine number 7 will simply be showing the white underlaying paper of the printer's paper roll, and the red will be printed all around it. The "7" being formed by a reverse image on the plate, i.e. no colour ink ever is used to make the 7. untouched white printer paper makes the 7 we see.
The area showing the 7 will of course be LOWER (or thinner in thickness if you will) than the surrounding red, as the thickness of the red ink layer around it adds to the height of that. Like painting a contrast stripe on a wall at home.
That stripe paint has thickness
if you are able to measure it precisely enough.
You assertion for 5 years has been that all Abed's 7 were
originally
3's or some other numbers. And they were forged into 7s.
So someone first needed to abrade (your written theory) all the existing 3s away via some grinder method, and then paint in all the surrounding area in red, and then paint in the 7 in white.
Two thickness's of painting in would
RAISE
the height level of the 7 - science has just proved to us the 7 can only occur if the genuine is
LOWER/THINNER
than the red.
Radley has also made the obvious comment that added paint into the area the size of a pinhole will have the red and white added ink running or "diffusing" in all directions along the paper fibres. Capillary action. Be easy to see.
Add a drop of red ink onto a white paper towel and see how the pinhead drop ends up as a half inch wide radius red stain. Capillary action of the paper fibres. There is NO

white

paper towel in the centre of that drop. 100% RED.
The raft of detailed tests also have showed conclusively that
no paper fibre
s in any 7 box were disturbed or broken as would apply if the area was cut or abraded as your theory relies on entirely. Basic Physics #101. Basic Common Sense #101.
The new "surface profilometry" lab testing that
capetriangle
conveniently claims not to understand, has been already explained to you, but you still claim you do not understand it, as of course it destroys your 5 year held theory of "painting in".
To remind you - those tests show the 7s were impressed into the white paper and they are in a "valley" lower than the surrounding red ink higher points. Yes one of the '7' photos I posted of that from some website page of Abed's is upside down on his page, I had noticed that, as I am sure Abed now has.
The absurdity of anyone arguing that "painting" took place, is that the underlying white stamp paper will ONLY be white where a 7 was first printed by Perkins Bacon.
If one starts with a 3 and changes it by painting over a 7, every sane person on this globe surely comprehends you need to do this -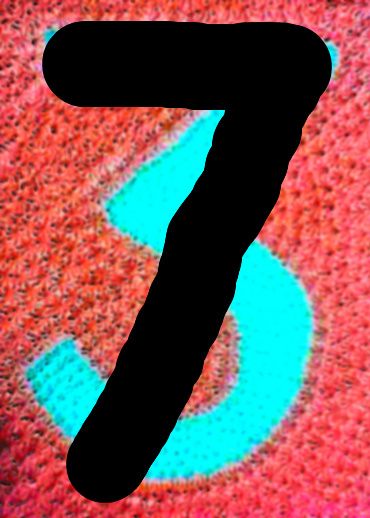 All but you it seems can see that is impossible to achieve, without the 6 x number 7s having ink from the necessarily painted in white and red running in all directions via capillary action (read Radley, although common sense tells us that anyway) And that, under any scrutiny would be obvious to the naked eye, especially when done 6 times.
As the inks applied will not be inks sourced 150 years back from the printer in 1860s, their chemical composition will be wildly different to what was used by Perkins Bacon, and even the most basic of tests will have detected that anyway. i.e. the same way art forgers are detected - and the creator of the "Hitler Diaries" etc. In his case inks made only decades apart were detected as wrong by forensic experts like Radley.
The new Science shows conclusively that
the 7s were never painted in
- it is impossible for that to have occurred, and pass these new tests.
All we need to work out now is how stamps for a brief time, having Plate 73 corner letters ended up bearing "77".
Glen