My 1913 is my favourite and its very well worn as you can see. I will showcase it as it was printed in February 1913 and therefore its nearly reaching its century of age.
Just before the war, its really a salute to the old gilded age, complete with eleitism, no one today would wear a badge made out of 9 carat gold on their lapel. Yet in 1912 if you were of a better class, you were expected too.
The part about the Great army of Stamp collectors is amusing. Lesser mortals such as my self would settled for the "Gilt Metal" version.
Even more amusing is the "Ideal album"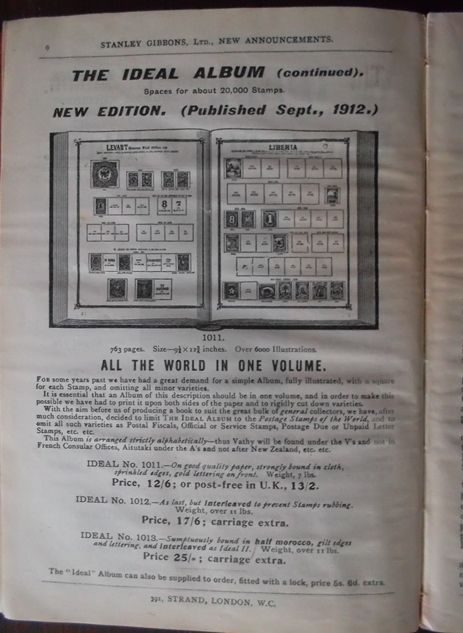 Theres no way you could fit all the stamps of world into one normal sized volume today, and especially not Liberia (Which was a wallpaper producer even then - definitive sets were issued in 1892, 1898, 1906, 1909, 1915, 1918, 1921, 1923 and so on)
This album like all others seems to have classes of binding, ranging from skilful art boards up to embossed morroco leather. Its amazing to see how classist people were 100 years ago, yet their expensive leather albums on gilded bindings with art quality quadrille leavings weren't known for their acid bath properties back then.
Some prices - Penny Black mint and used 25 shillings and 1/6, 2d blue 8 quid and 7/6. The Australian Commonwealth had just released its first roos from 1/2d to 6d, and the 1 and 2 shillings, all are at sale at slight above face value, the 2/- is 2/8 mint and no prices for used. The addenda has the 9d, 5s, 10s and the 20s (They obviously had not seen the one and two pounds). The 5s was 6/3 mint and 12/6 for the 10/-. The 20/- (Sic) and 9d are unpriced.
The famous 5 pound victoria cost only 90 pounds mint and 10 pounds for the 1882 type and a mere 8 pounds mint and 75/- used in the white paper version.
If anyone else wants to know what a stamp cost them, let me know.
_________________
I collect Malta, Ireland, Malta, Tristan da Cunha, Malta, various Pacific Islands, Malta, New Zealand, Malta, Australia and Malta.