Mr Joseph Inneo, a keen Melbourne philatelist, decided to celebrate his engagement to Miss Lucy Dias of Rio de Janeiro, Brazil, in 2009.
Since Australia does not do cals, Joe obtained cals from NZ. There were no FDCs, and few were ever used in NZ, though Joe affixed lots on his outgoing mail alongside Australian stamps!
The happy couple were married in Rio de Janeiro, Brazil, on Saturday, 7th May 2011.
To celebrate, Joe organized a special 60c "personalised stamp" (or cal, as the posties call them) featuring "cartoon" portraits of the happy couple, drawn by the renowned Brazillian cartoonist Anthony de Mello.
It had first day on the day before the wedding: Friday 6th May 2011. This day was the 171st anniversary of the issue of the world's first postage stamp, the "Penny Black" featuring Queen Victoria, by the U.K. on 6th May 1840.
Only 1,000 of this cal were printed. For the First Day Cover, only 100 covers were done; each has its number stamped on the back. The FDCs were specially printed in Belgium as Joe found the Australian printers too greedy.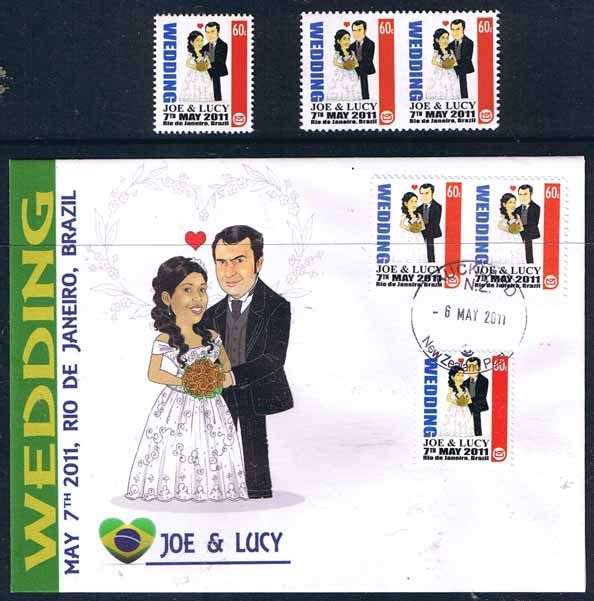 TOP: Mint single cal, imperf-between proof pair.
BOTTOM: A first day cover, with imperf-between proof pair and normal cal.
Each cover has an imperf-between "Proof" pair, plus a single stamp, postmarked at Auckland. The reverse of the FDC has its number stamped on it, plus a cinderella stamp "
Joe + Lucy FOREVER
" which is cancelled by a black "
Republic of My Heart
" circular marking.
I still have a few of these (as I acted as Joe's NZ agent to get the FDCs serviced, since he was already en route to Rio on issue day.)
Anybody wanting some is welcome to contact me: can trade for mint sets of "new issues" of commems of your land.