That is a beautiful stamp
nethryk
.
A more current postage stamp featuring a horse is this one issued by the Czech Republic on 6 June 2012. It shows St Wenceslas.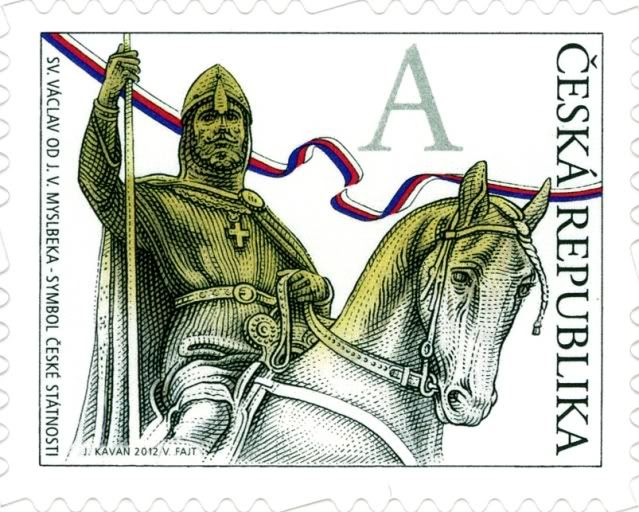 Here is the information supplied by Czech Post:
The stamp portrays J.V. Myslbek´s monument of St. Wenceslas, symbol of the Czech statehood, with a tricolour in the background. St. Wenceslas (probably 907 - 28 September 935), a Czech prince and saint, is considered to be the main patron saint of the Czech country and a symbol of the Czech statehood. Wenceslas was brought up by his grandmother, Saint Ludmila, who raised him as a Christian at Budeč castle. As the ruler of the Bohemian Duchy he dealt with several raids led by the Saxon duke Henry the Fowler and was able to maintain the sovereignty of the duchy. He was the founder of a rotunda consecrated to St. Vitus at Prague Castle, which became the main church in the country. Wenceslas was murdered in Stará Boleslav, in the seat of his brother Boleslav who succeeded him as the Duke of Bohemia. Wenceslas was considered a martyr and a saint immediately after his death both for his piety (he grew vines and corn and made sacramental wine and bread by his own hands; gave alms to the poor; took care of slaves and prisoners; founded churches; dismantled gallows and brought down idols) and miracles after his death. He later became a symbol of the Czech statehood (e.g. in the late 11th century Vyšehrad Codex, on coins or Myslbek´s monument). In 1929, the country celebrated St. Wenceslas millenium by opening the finally finished St. Vitus cathedral in the presence of Czechoslovak President T.G. Masyryk and Prague Archbishop František Kordač.