Seriously - someone told me this week he'd noticed that at least
stampcollectorboz
has toned down some of the quite fraudulent looking "alleged retail" descriptions he has been using for years - on his
NEW
listings on ebay.
I know one very large dealer has been chiding him to tone that area down for ages, 'for his own good' I recall were his words.
The commentary made on this board, and in magazines etc, maybe has bought home to him he would
still
sell quite a bit of material if he quoted
ACTUAL
retail and not
TEN
times true retail ,as occurred above on the 4d roo quite recently.
Doing the latter simply hurts the stamp hobby for
ALL
of us.
The bunny buyers take a
total bath
when they sell, and get a tiny fraction what they paid - when they THOUGHT they were buying "under retail" - and they bad-mouth stamps forever to all they speak to.
Highly reputable dealers like Richard Juzwin offer this 4d Roo stamp openly for
$63 including GST
just for the poor centering, and he would take $10 or $20 due to the ripped off corner. As would most savvy real dealers.
Telling the Bunnies
in writing
this stamp is "retail $150-$200" is not only bordering on fraud many might say, but
IS
knowing fraud - especially if done on a regular basis, by someone who clearly is a large and long term dealer in such goods.
List it up with a photo. Drop the
"SUPERB"
nonsense below for 4th rate dogs like this. And if Juzwin retail is $60 including GST for poor centred - say
"retail $60".
Not "$150-$200".
That is fair, that is honest, that is ethical, and that is making for an informed buyer market. Which is good for stamps.
If Richard, or I, or any other real dealer ran that photo with that alleged retail price on a regular basis, we'd be tossed out of all the trade bodies we belong to. FAST.
State the TRUE retail for that centering.
THEN
if some dope pays more - well too bad for the buyer.
It will not then be the fault of
stampcollectorboz
in any way, and his name would likely never appear here, or in print. End of story.
As I typed in my last article he does offer some nice stamps, and just let the stamps sell themselves on their merits. If they are nice they will sell well. Fibbing about alleged retail, or stating things are "SUPERB" or "wonderfully centred" when they are clearly
not,
just encourages many potential buyers to stay away - many folks have told me that as a FACT.
Huffing and puffing behind the scenes about stampboards and Glen Stephens etc gets him absolutely nowhere, except loses him even more credibility I'd suggest. The:
"where there is smoke there is fire"
human reaction.
John Bozic seems to resent being "mentioned in dispatches." The solution to that is totally in
his
hands. The quick way to stop that occurring is keep taking the advice he appears to have heeded - if the info above is correct, that his stated "retail" prices might now bear some close resemblance to what dealers like Juzwin
really
change.
If

that is true, it is great to hear, and I'll be the first to applaud it, if it occurs on an ongoing basis. That will be good news for the Australian stamp hobby, if buyers are better informed before bidding.
Boards like this can then forget all about him, and focus on the real problem of the local forgery gang who still seem active on ebay, and others who are scamming collectors with fakes etc.
Glen
===================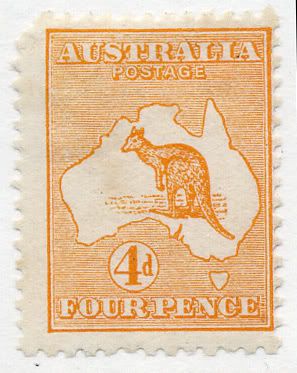 ....
..
"SUPERB MLH - Retail $150 - $200"
(Real retail about $20 from a
real
dealer.)
.
.