There's been a little discussion of Jaipur here lately, so I thought I show some of the Uglier issues: the 1911 Jail Press printings. (If you look at a recent Gibbons Part 1, you'll find the printer of these stamps described as the 'Jaipur State Press'. This is also true: in 1911, the Jaipur State Press was in the Jaipur Jail.) The stamps represent the chariot of Surya, the Sun God. The same design was used for the first and second types of Jaipur, and again on the ¼ Anna value of the 1931 set for the Inauguration of the Maharaja.
Back when I was a lad in short pants, not long after the Tabberabberan Orogeny (inserted for Iomoon's sake), these stamps were a real drug on the market. Dealers would pay you to take them away - they came free in Corn Flakes packets, and so on. These days, they're still quite available, but they tend to spark tiny bidding wars on eBay when they're offered. A Simplified set according to Gibbons would be worth £3.10 mint and £8.50 used (CTO, that is; postally used are another matter altogether).
Being typeset and printed, by the inmates presumably, they abound in errors of one sort or another: in the wording and double prints. For the most part, even the errors are still very affordable - a couple catalogue at £0.75, and most at less than £5.
There were three Settings of the stamps. They're most easily identified from the shading around the front legs of the horses.
Now to the stamps themselves. There are two recognized shades of the ¼ Anna. First, the 'green':
SG 16 - Setting A, without errors
And here is a more typical sheet
with
errors
SG 16a, b, c
This is a typical example of a double print (SG 16a), also with the ¼ inverted in the top right corner at position 2 and no stop after STATE at position 5. This sheet is from Setting C.
And here is the cheaper, 'greenish yellow' version: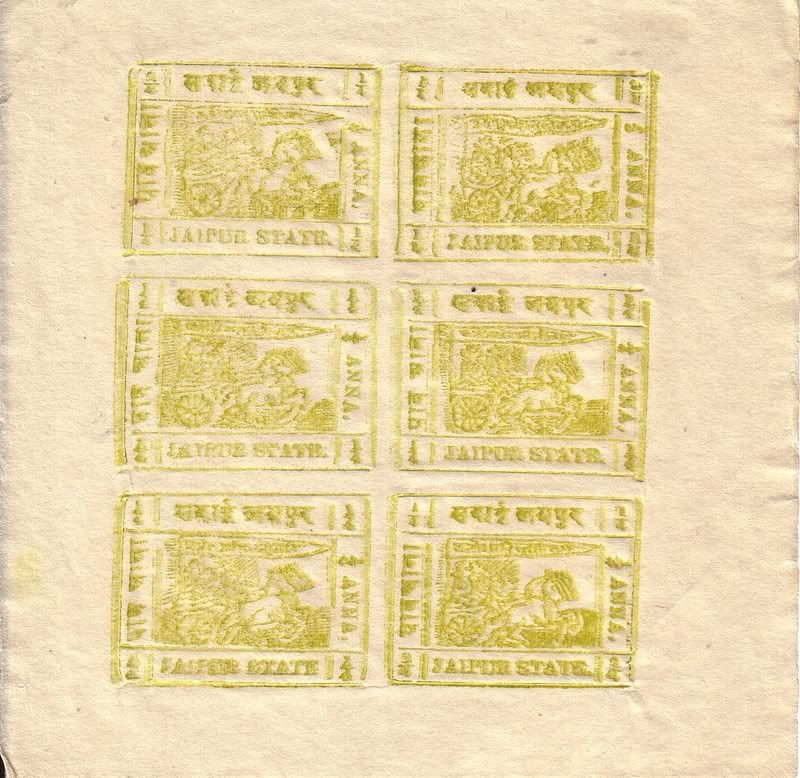 SG 17a, b, c
This is another double print, and again with the ¼ inverted and missing stop.