In 1962 the USA ( as well as many other countries) issued stamps to commemorate Dag Hammarskjold, the Secretary General of the United Nations, who had died a year before in a plane crash not far from the frontiers of the Congo. A block of four of the USA stamp is shown below.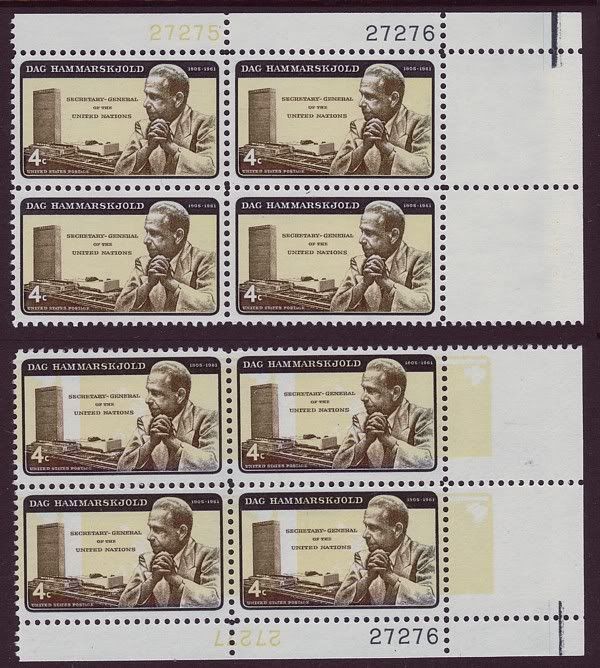 One Mr. Sherman of Irvington (New Jersey) bought a whole sheet of the four cent stamp and then discovered that the yellow underprint under the brown print was inverted. After discussing the find (and what it might be worth) with Mrs Sherman they kept their find a secret.
Meanwhile a philatelist in Ohio had bought another sheet of fifty stamps with the yellow printing inverted. Before he realized that he had a sheet of errors he had already used most of his stamps on letters and was left with only nineteen copies.
Sherman could no longer keep his secret. He boasted that he owned a complete sheet of fifty of this rarity and valued it at $400,000. As soon as the Postmaster General of the United States, J. Edward Day, learned of the existence of these errors he ordered some more Hammarskjold stamps printed with the yellow printing inverted, so as not to have a rarity in the original copies.
Sherman started a court action against the Post Office, stating that by the PMG's action he would be deprived of his treasure. He was successful, and the court ordered the printing to be stopped. But the court order came too late. In the meantime 320,000 copies of the "faulty" stamp had found their way to philatelists and stamp dealers, and today the price of the faulty stamp is the same as the price of the normal stamp.
(adapted from Otto Hornung's "The illustrated encyclopedia of Stamp Collecting", Hamlyn 1970)