'What scanner do I buy to get good results on this board'???
The following post I just made elsewhere.
I've removed the member's handle as it is not relevant, but it does serve as a useful pointer that many members
THINK
they have a great scanner, but sadly the results are less than terrific, when compared to others that are out there and quite cheap.
Often I see members here with collections clearly worth 6 or 7 figures, posting up scans on equipment that may well be Boer War army surplus.
I think many collectors end up using for scanning whatever the kids had bought, before they left home etc! Or what low end junk came 'free' with the computer etc.
Sure those WORK .. and are fine for scanning the odd document or invoice etc, but for
stamps
we need something a few levels up the totem pole than those!
I do not work for Canon, nor get a deal from Canon, but am only posting
what I know to be true
from personal experience and observation, that using current Canon lide series scanners
work SUPERBLY for what WE do in the stamp bulletin board world.
I do
not
want this to be a debate thread about HP scanners versus Fuji or Lexmark etc ..... frankly I do not care what anyone uses, if it does the job for YOU.
However for as low as $A120 locally (and probably far less in the USA) you can buy the absolutely top of the range model
the lide 70 and lide 90, that for

STAMPS and COVERS

work simply superbly.
I've used and owned both and they are brilliant. They are very small, light, compact and portable, and take up no room anywhere. (See actual photo below). I took mine to the Canberra Stamp Show in March, and it easily fits into lap top carry case, on top of the lap top.
I post my reply below, to that member for your info.
We are blessed with all having access to the free photobucket accounts.
I do hope
ALL of you using them
have read my request to go and re-set them to the new 800 max size, to stop our software "choking down" your images and making them fuzzy, if you are still using what USED to be OK here, the 1024 wide setting, that many complained made the pages here "too wide".
Full details on how to quickly do that are here:
viewtopic.php?t=5342
stampboards.com is the
NUMBER ONE stamp board in the WORLD
for one main reason .. the huge amount of photos I have always encouraged members to load up here.
In most cases they will stay here for years as a permanent resource and tutorial to others.
Often the info we have here is the ONLY place on the web it is to be found, as google searches show readily.
We now get about

350,000

page views a

MONTH

here.
Some large dealer websites have literally not had that much traffic in
5 years
.
As the publicly accessible stats show, the numbers of collectors who are not members "lurk" and read info posted by others. Many sign up to be members after they feel they are comfy in this environment.
You load up the scans and I'll take care of the hosting fees etc, but
the more photos the better
has always been my number one motto here.
The QUALITY of what we post is therefore important. If members are in need of updating to a real purpose built scanner, as opposed to those fairly low grade "3 in 1" type deals many use,
DO consider upgrading to a Lide 70 or lide 90.
Your own scans will improve out of sight in most cases, and the detail you can offer others via this board will clearly improve too.
Stamps are a 100% visual hobby. The better the visuals, the better we all enjoy it!
Members often ask for opinions on flaws, retouches, or shades. If the scans they post up are essentially rubbish grade to start with, it is hard for anyone to really assist.
The sharper the scan you post, the more feedback you will get back, it is as simple as that.
$120 is a minor drop in the bucket if you are told by others your stamp you always wondered about is now worth $500.
Think on that.
-------------------------
http://i291.photobucket.com/albums/ll28 ... 0005-7.jpg
Quote:

Gee Glen,

I can't win on the scans-can I? Still appalling eh?.

I set it at 600 dpi resolution and have adjusted photobucket to 15 inches and still a problem with quality?.


Alan, you'd have to agree (I hope!) this below looks nothing
whatever
like the actual stamp.
What brand scanner are you using?
Lots of us have bought the
Canon lide 70
or lide 90, as the colour seem really accurate on them. And the sharp detail it offers is superb for these boards.
I bought a new Canon lide90 this week for $120
.
http://www.shopbot.com.au/p-84074.html
That is absolute top of the range. They are truly dirt cheap, and anyone can install them in 2 mins. Add the
free
Google PICASA program to crop or straighten or enhance when needed, and you are set.
I am a total techno imbecile, and I can manage both in seconds.
The lide scanners do NOT need a separate power cord .. they simply plug into any of your USB ports, or laptop or desktops, so are very portable, light and thin. Yet allow thick books, catalogues and stockbook pages etc to be scanned, as they open up an inch or two via a very clever hinge at one end.
This below is a pair of £1 blocks in slightly different shades I had on my rarity page last month.
Then I blew up just now the 1 stamp DETAIL, from one of the blocks.
As you can see it bears no resemblance whatever to your 'Specimen', however they are the identical £1 Robes Thick paper stamp.
Honestly with all the quite superb material you clearly have, investing $120 to get a scanner that really shows the details and colors, will help us solve a lot of mysteries in your collection.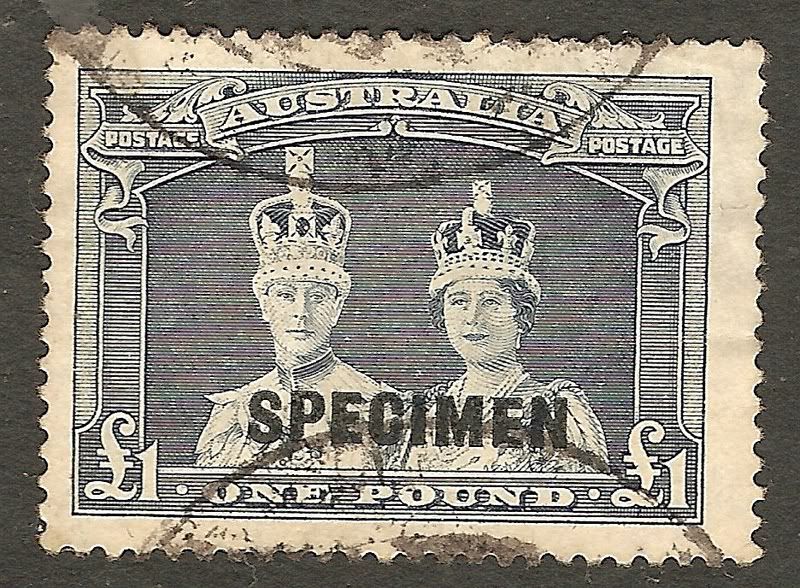 ----------------------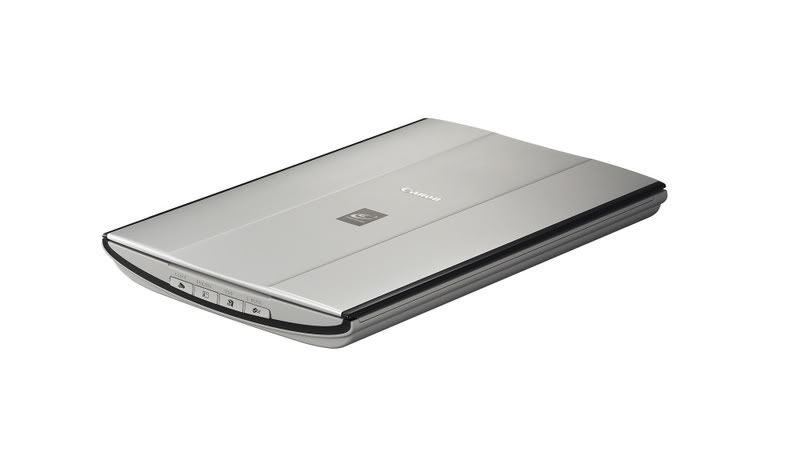 The superb little Canon lide 90 scanner. Perfect for EVERY stamp collector to own!