MargoZ wrote:
Libya
5 very DRY days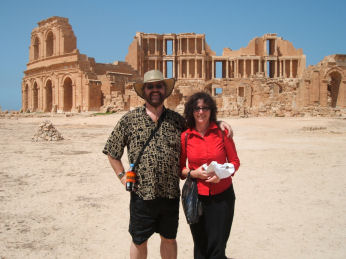 Margoz,
That is an incredible pic. Love the ruins in the backgound - they seem almost clearer and closer than you and Glen!
_____________________________________________________
M
; Matamata, NZ - lived here for just over a year, and spent time laying bricks in Tauranga and Hamilton (both about a 45 min drive away). Also, Matamata was where the set of Hobbiton was located for the Lord of the Rings films. We would sit at one of the local bakeries for lunch in the weekend, watching busloads and busloads of predominantly Asian tourists paying up to $100 to look at the holes in the hills from the set. Yes, they did dig into the hills for the houses in Hobbiton, but by the time the tourist operations were up and running, there were only holes left - not even windows or doors.
Ewen